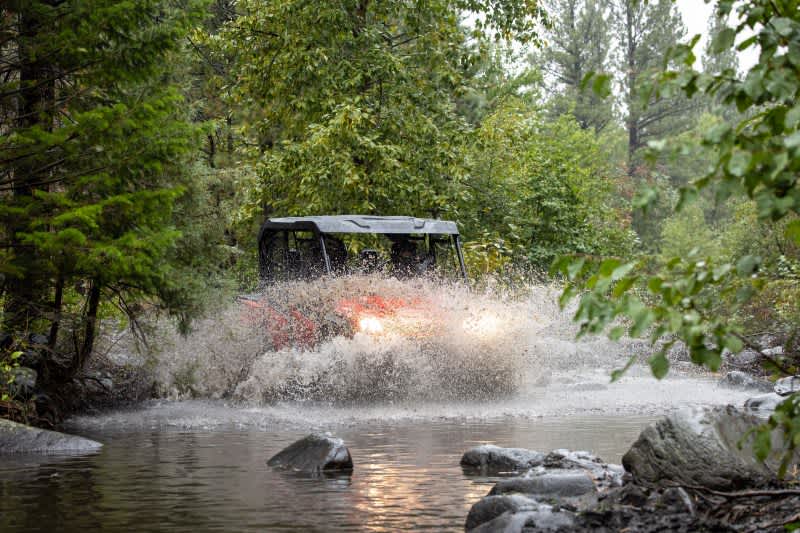 So How Does it Drive?
Last time in our First Look at Honda's new Pioneer 100-6 Deluxe Crew SXS, we took an overview of this new six-seater crewcab model from Honda.  This time, we'll be reporting on how it did on a full day of trail driving around a Montana ranch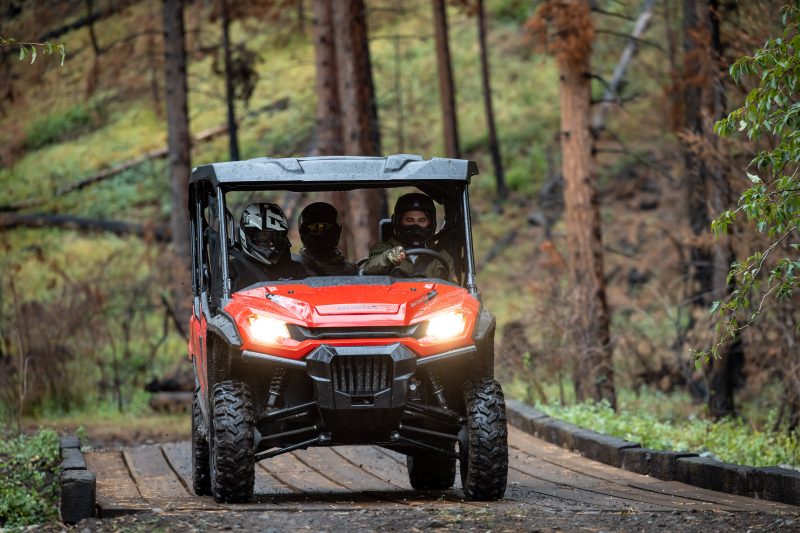 Hitting the trail
Despite temperatures at the base of this mountainous ranch being 40 degrees and blowing rain, we opted for the open cab model, being that we were properly dressed for the excursion.   Remember, there's no such thing as bad weather, just poor clothing.  The first thing we noticed on starting up the vehicle is how quiet it is up front for the driver upon startup.  It's easy to converse with your fellow riders, even with full face helmets on and an open cab.
The second thing one immediately notices upon getting into the driver's seat of the Honda Pioneer 1000-6 is how well played out all the controls are from the driver's perspective.  The shift map, drive mode gates, paddle shifters, vehicle info, everything is clearly visible while still affording you a view of the road.  As someone who uses a SXS a lot for plowing inn the dark, I cannot overstate how frustrating it is to have to take one's eyes off the plow when shifting or selecting a drive mode.  Honda made a great decision to have everything up high one the dash where you can see it at all times.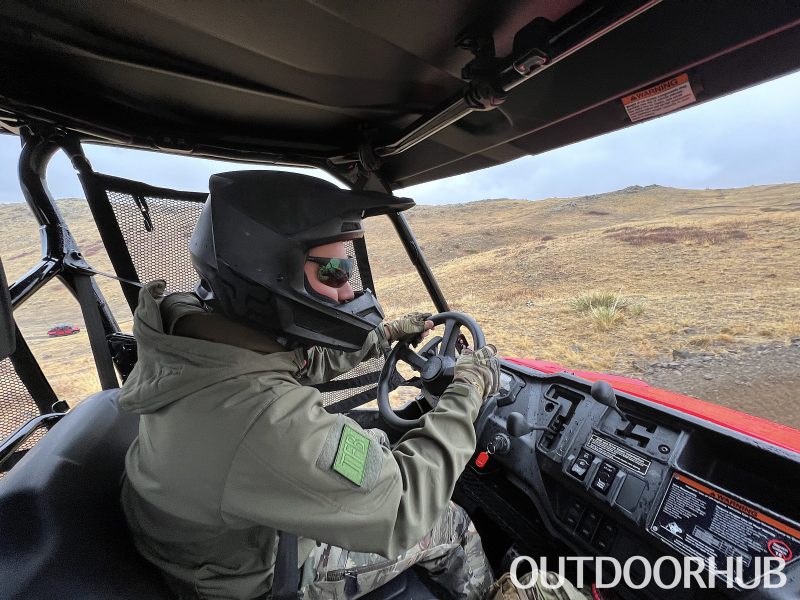 The first shift
Speaking of shifting, shifting of all kinds in the Pioneer is not only easy-it's fun!  Shifting from park to high, for example, feels easy and smooth, as does shifting from 2wd to 4wd, tow or turf mode.  Shifting gear to gear can also be accomplished via the paddle shifters, should you want more control than the Honda's already well-programmed automatic shift map.
The Pioneer 1000-6 has some unique systems that came into play while we were driving and taking turns changing position in the SXS.  The hydraulic self-leveling rear suspension meant that no matter what the weight in the back row-or if you hitch up that one ton hay bale to the back-the Pioneer isn't going to "squat down" on you.  Also, the transmission has "advanced transmission logic" meaning it will adapt to sportier or more conservative drivers over time, holding gears for the appropriate amount of time that corresponds to your driving style.
Pedal Power
Right off the bat, one notices the difference between a Pioneer with its dual clutch transmission vs other SXS with belts-power is right there on-demand when you want it!  The Honda smoothly and smartly accelerated up the trail and off we went.  The smooth shifting combined with the instantaneous power delivery came in great use when we were doing three point turns on a downhill grade.  For me, that was the point where I started to feel that my old belt driven SXS back at my own ranch was seriously outdated by the new Pioneer 1000-6.  The Pioneer also has excellent engine braking downhill, both aiding in maintaining maximum traction and taking it easy on the brakes over time as a maintenance item.
Speaking of maintenance, we had a unique opportunity in the product review world to not deal with a sample size of one-but of seven.  Of the seven vehicles being driven at this event, only one had an issue during the ride. This was due to a faulty wiring harness causing the radiator fan to go out, and was an easy enough fix.  The rest of the vehicles had zero issues during the entire field day.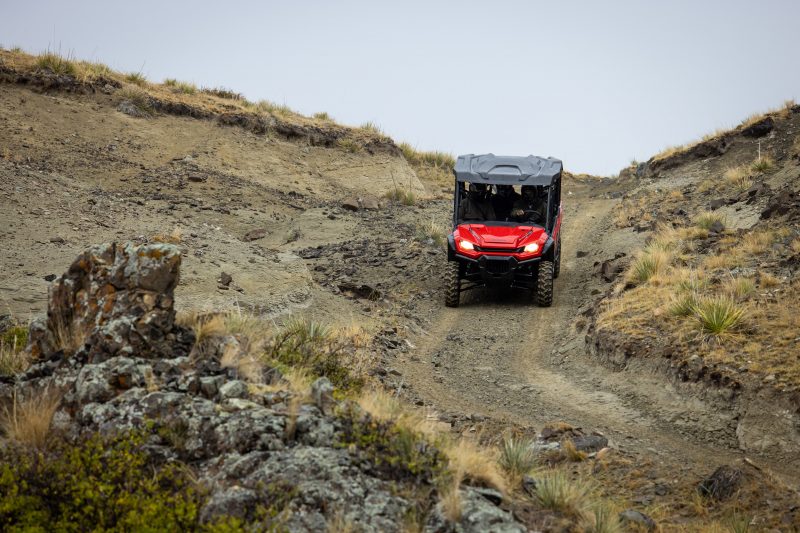 Taking a Backseat
Unlike many other SXS platforms, the Pioneer 1000-6 is just as comfortable for the passenger as it is for the driver.  Not only are the seats-even the middle ones-comfortable, but theres plenty of grab points for staying stable when you don't have a steering wheel to grab onto.  The Pioneer 1000-6 aims to provide more shoulder room to middle passengers by staggering the middle seats slightly forward of the side seats.  The staggered seat configuration came in handy when I was traveling in a packed Pioneer 1000-6 down to the Missouri River to do some fly fishing.  I'm on the taller side and around 200lbs with somewhat broad shoulders.  Despite the close quarters, I did not feel squished in the middle seat-or any seat for that matter.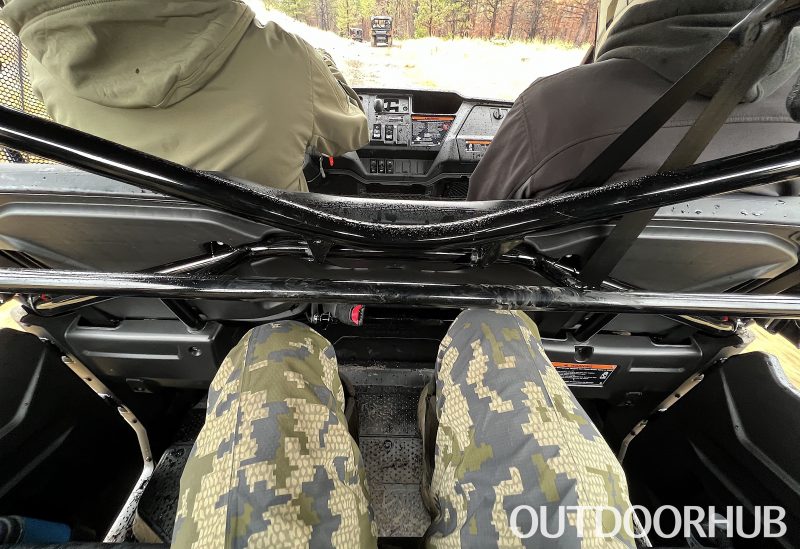 All Terrain
The Pioneer 1000-6's suspension was just about as good as it gets for a crewcab.  I've bashed about over all kinds of terrain at speeds up to 60mph in other crewcab SXS platforms, and I can definitely say the Pioneer's suspension is probably the best tuned both for ranch work and for rough terrain.  When fording rocky stream beds, the Pioneer rolled right through the river rocks and boulders without giving us side to side whiplash.  When cruising over smooth or washboarded ranch roads at higher speeds, the Pioneer didn't wallow about either.  Honda did their homework suspension-wise, and it shows.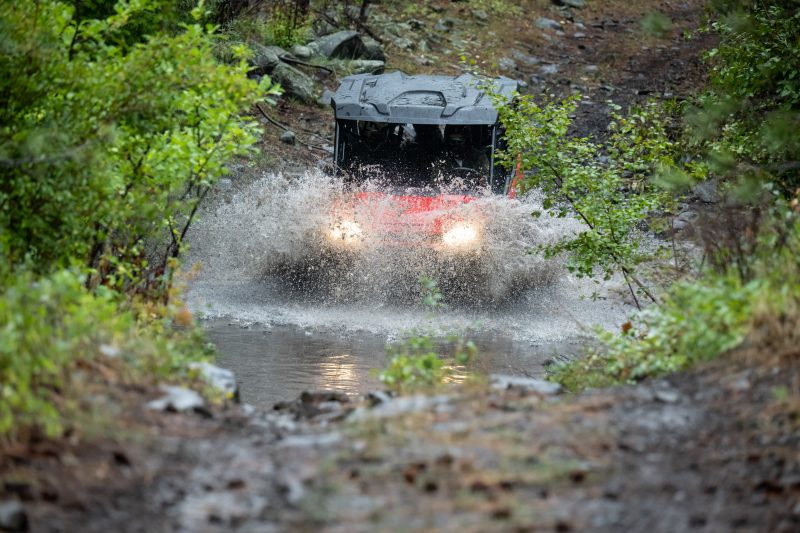 Overall Impressions
After a day of driving and riding in the Pioneer 1000-6, I came away duly impressed with this new Crew SXS.  Not only does the total package have great price to features on paper, but the performance on-trail is there to back it up.  On returning to my ranch, I had several other agricultural workers ask me how the Pioneer 1000-6 was.  I was emphatic that if they were looking for a new six-seater SXS, they should highly consider the Pioneer 1000-6.  If you're looking for a crewcab SXS to haul the family, to haul the hunting camp, or to haul feed around your ranch, give the Pioneer 1000-6  a good, hard look.  You'll probably like what you see.