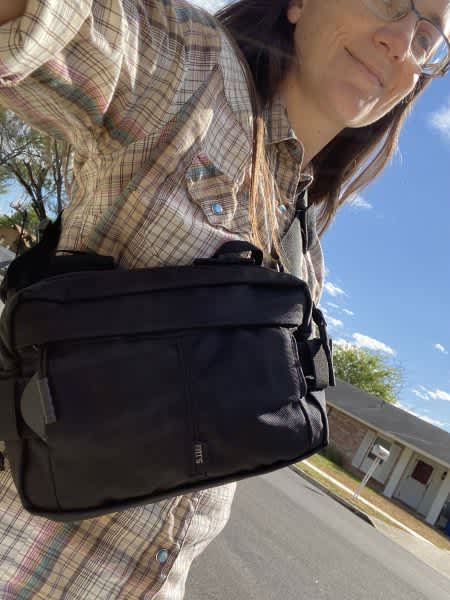 When I first got the 5.11 LV6 Waist Pack, I was very excited. I had been looking for some kind of everyday pack just like this that I could wear multiple ways.
What's really great about this pack, is that it has webbing on the top and bottom so it can easily be attached to the LV18 Backpack or LV Covert Carry Pack.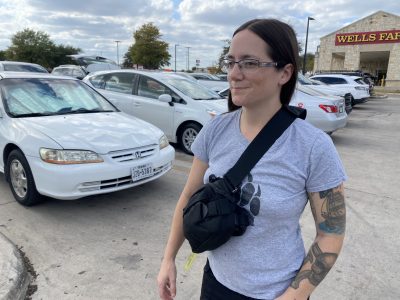 It can be secured around the waist or across the body. I tried it around my waist first and didn't care for that, but across the body is a winner. I carried it around for a few weeks and absolutely loved how it felt, how easily it was to access everything and how much it held.
It's also low profile, too. Even though it does have the webbing, it's basically hidden and the pack itself doesn't look 'tactical'.
The pouch in front is a little tight and not as easy to access when it's on your person, so I don't put anything in there that I need immediate or regular access to. I place survival items like a light, glow sticks, tactical pen, multitool and so on.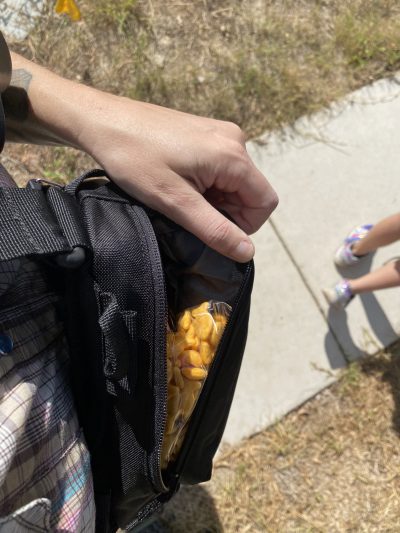 The main zipper pouch on top holds gear like snacks, my wallet, my sunglasses case, chapstick, power bank, travel pack of wet wipes and tissues. That main pouch can hold quite a lot! It has three mesh organizational spots, but to be honest, nothing has fit inside those spots because they're not really big enough for much except maybe a pen or knife. I tried to put an altoid tin inside of them and it doesn't fit. So smaller items can easily fit into those organizational mesh pouches.
In addition, that main pouch can also be a spot for your CCW. You'll need a holster that attaches via velcro something like this.
Or you can attach other velcro pouches to the inside such as organizational pouches or mag pouches.
The very back has a mesh velcro pocket which I honestly haven't figured out how to utilize just yet. Since it's up against my body, I wouldn't want anything too bulky, so something flat an unobtrusive, but I'm still trying to figure that out. For now, having it empty is just fine.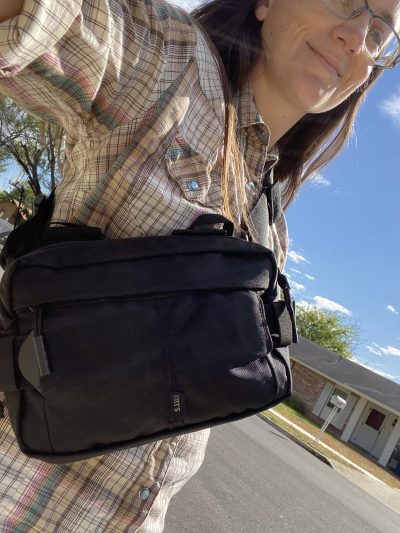 It's very comfortable to wear and doesn't disturb my everyday movement. I will say, though, when I wear a short sleeve shirt, it does kind of rub against the strap as I walk. It's not that big of an issue, though, I can always wrap it with something soft like a little bit of fleece. I figure this is the same issue with just about any crossbody carry bag out there. Not a deal breaker by any means.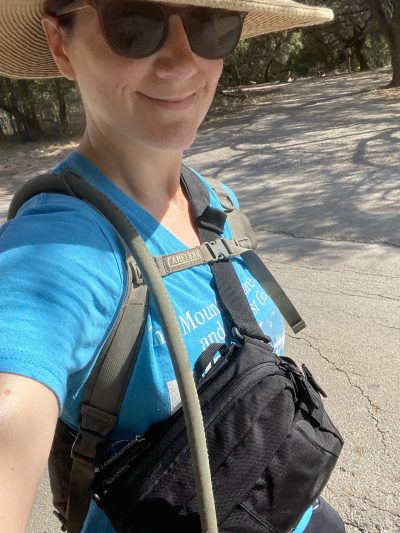 If you've been looking for a new fanny pack or crossbody pack, this is absolutely one I highly recommend. At $42, it's more than affordable and comparable to similar products. Being 5.11, you know it's going to be high quality; which it is.
Give the 5.11 LV6 Waist Pack a try today!