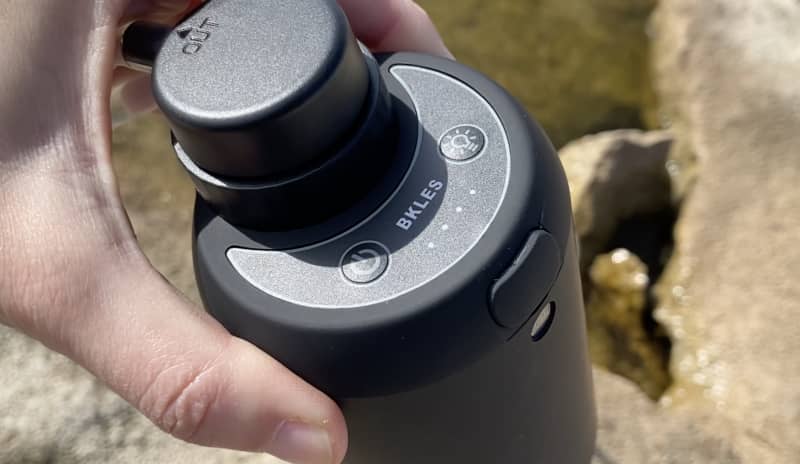 I've filtered a lot of water in my outdoor life and I have to say, I'm really loving these new electric water filters. This one in particular is one of my absolute favorites for so many reasons. But of course, the biggest reason of all: no effort on my part!
Why use a bunch of energy pumping water (or wait an eternity for gravity-fed filtered water) when I could just press a button and the filter do all the work!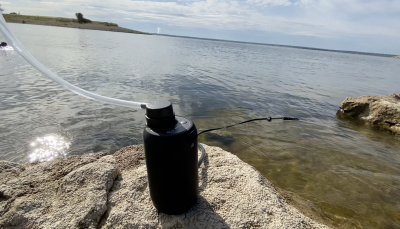 I charged the BKLES Portable Electric Water Filter with the Biolite BaseCharge and it took about 2 1/2 hours to go from 1 bar to 4 bars (fully charged). It uses barely 4 watts to charge which is an absurdly low amount of wattage and didn't take long at all to get fully charged.
On a full charge, it can last about 10-15 days of everyday use. That's an impressive battery life! In fact, I didn't even charge it straight out of the box and on just one bar, it lasted a solid 30 minutes of me tinkering around with it and testing it without any signs of stopping.
Here are some specs for the BKLES Portable Electric Water Filter:
Can filter 700ml of water per minute
Power it via solar panel, wall socket, vehicle power supply, power stations and much more!
Only weighs 350 grams (12.3oz). It's really lightweight and fits in the palm of my hand nicely.
Comes with a handy storage bag to pack everything away nicely.
Filters down to 0.01 microns.
Has a pre-filter that goes into the water and a filter inside; double the filters to filter out clean water.
Even has a little light on the outside if you're ever out filtering water in the dark and need some extra light.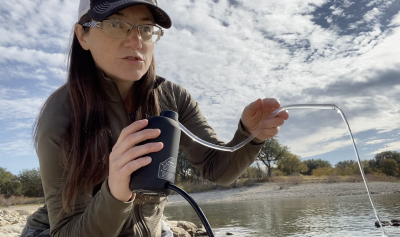 Pros:
No frills or gimmicks. It has a button for on, button for the light, place for the out hose and a place for the in hose, and that's it.
Very quiet
Lightweight and compact
Huge battery and lasts a long time
Filters a lot of water in very little time.
Water tastes great! With new filters, there may be a slight taste of the filter, but it goes away after about 5-10 mins of running it. This is very standard among new water purification filters. The taste went away after running it for a bit.
Huge time and energy saver!
Cons:
Wish the mesh pocket on the outside was bigger as I couldn't really fit the hoses and pre-filter on the outside, they kind hang out, but not a huge deal.
Conclusion: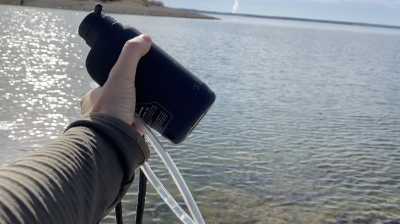 I couldn't be happier with this filter. It can certainly be used for backpacking, car camping, and even emergency preparedness. Huge time saver, easy to charge, and filters out pretty much anything you'd ever want to filter out (except sea water, which is pretty standard).
At $99, the BKLES Portable Electric Water Filter is worth every penny. Anything that can save me time and energy, especially when it comes to getting fresh and clean drinking water, is a plus in my book. Enjoy!