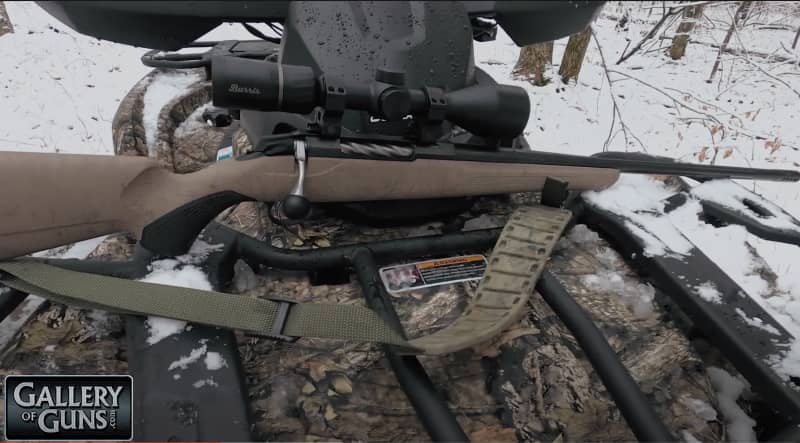 +
–
Table of Contents

1. Tikka T3x Lite Roughtech
At it's core, the Tikka T3x Lite Roughtech is very similar to the other 25 rifles in the T3x line up with one noticeable difference. The T3x Lite Roughtech has been blessed with a stock coating which delivers durability and resistance to scratched but also an improved grip for wet and more extreme hunting conditions. The roughtech coating gives the stock a much more grainy feel which allows your wet hands or gloves to keep a hold of your rifle hunting from a tree stand or climbing a steep incline.
The stock also comes in two color options, black and tan, which is great because shoppers love having options when it comes to their stock. Beyond the surface upgrades that Tikka incorporated in to the T3x Lite Roughtech, you are also going to get a rifle which incorporates some of the great features the entire T3x lineup possesses.
One such feature is that the stock is modular. As a T3x owner, you will be able to customize your pistol grip, foregrip and cheek riser to give you a more personal fit and appearance. To shop for your accessories, you will do so on the Berettausa.com website where you can find various colors for each of the components.
Internally, the Tikka T3x Roughtech has a fluted bolt and barrel, widened angular ejection port, metallic bolt shroud, steel recoil lug, a cold hammer forged barrel, and fined tuned rifle bedding. As a whole package, the Tikka T3x Roughtech combines European precision with external upgrades to provide a very capable hunting rifle for any weather condition.
Pros/Lightweight, capable of withstanding the elements, Tikka accuracy
Cons/Limited color and caliber options
Bottom Line/The Tikka T3x Lite Roughtech is a very capable rifle that will last for years in any condition
Where to buy?
This review was brought to you by Gallery of Guns. Gallery of Guns is one of the best resources to search for rifle inventory in your local area. In just minutes, you can find the rifle you are looking for at a great price.
Head to Gallery of Guns to look for the Tikka T3x or any other firearm you are currently in the market for.
Does the Tikka T3x Lite Roughtech come in multiple calibers?
Yes, you can choose from various calibers including:
300 Win Short Mag
270 Win Short Mag
30-06 SPRG
6.5 Creedmoor

7mm Rem Mag

270 Win
308 Win
243 Win
7mm-08 Rem
300 Win Mag
223 Rem
Does this rifle come in more than one color?
Yes, you can get this rifle in black or tan.
What kind of action is this rifle?
This rifle is a bolt action.
Does this rifle have a magazine?
Yes, this rifle has a 4+1 capacity.
Does Tikka warranty their rifles?
Yes, Tikka provides a 2 year rifle guarantee. You can view their full warranty information here.
We are committed to finding, researching, and recommending the best products. We earn commissions from purchases you make using the retail links in our product reviews. Learn more about how this works.