The Rebelle Rally is a weeklong all-terrain auto race through the American desert. No cellphones, no GPS — just a compass, a map, and some old-fashioned camaraderie.
From Oct. 9 to 16, 52 all-female duos will compete in the sixth-annual Rebelle Rally. Each pair, consisting of one driver and one navigator, will press their all-terrain whips across unforgiving Nevada and California desert for 7 days and nights.
The racers will not be allowed cellphones or GPS. All they'll have at their disposal is a racebook, an analog calculator, a map, a compass, and a lot of try-hard.
They'll have to follow clues and use navigation skills to get to the next checkpoint. Teams will set up camp each night and break it down every morning.
It'll be barren and brutal. It's got serious "Mad Max" vibes. And it will kick ass.
Rebelle Course & Format 
Technically, the race began with the Tech Inspection on Oct. 7. But the race itself officially kicks off the morning of Saturday, Oct. 9.
The starting line runs alongside the Hoover Dam on Lake Las Vegas. From there, the route yards across 1,370 miles of wicked, varied Mojave Desert. Competitors will face burly hardpack, low-gear it up steep scree fields, and negotiate intractable sand dunes for 10-plus hours of every day.
The course route is confidential (after all, it's a clue-based navigation race) but consists of four base camps and one marathon stage where teams self-camp without mechanical assistance. This year adds three full stages that are entirely new to the rally and incorporate previously unused routes.
The seventh and final stage takes place on Oct. 15 in the Imperial Sand Dunes complex in Glamis, Calif. Race officials describe the 120km (74.6-mile) final course as chaotic, with soft sand peaks that are likely to shake up the rally's final standings.
Several unique challenges and rules make up the Rebelle Rally's distinct and engaging format. The highest score at the end of each stage wins that stage, and the highest overall takes the cake.
Competitors are given a checkpoint guide and roadbook containing all they'll need to complete a stage of the race. Using a map, navigators will have to plot geocoordinates or heading and distances in order to identify the target checkpoint.
A combination of compass and map challenges make up one component of the "navigation raid"-themed race. Enduro challenges make up the race's mechanical component.
Teams return to a luxed-out, mobile "base camp" at the end of a stage but camp primitively and at designated locations during the multiday "marathon" stages.
Vehicles
Rebelle recognizes two vehicle classes (4×4 and X-Cross) and three vehicle designations (Bone Stock, 4030, and Electrified). Here's what those mean.
Off-Road Classes
4×4 vehicles: 4-wheel drive, 2-speed transfer cases, low range
X-Cross vehicles: All-wheel drive or 2-wheel drive, unibody construction, no low range
According to the Tech Inspection report, 42 teams make up the 4×4 class, consisting of 18 Jeeps, 13 Toyotas, five Fords (including new 2022 and vintage 1969 Broncos), two Nissans, two Land Rovers (LR4 and a 2022 Defender 90), a Lexus GX 460, and a 4×4 Porsche.
Ten entries complete the X-Cross class for all-wheel-drive and two-wheel-drive vehicles. Highlights of the class include two Porsche Cayennes, two privateer Subarus, the Mitsubishi Outlander, a Honda Ridgeline, and a Ford Bronco Sport.
Designations
Bone Stock: No modifications other than the addition of off-road tires
4030: Vehicles older than 40 years that are street legal, with minimum 3-point seatbelts. Restored and modified 4030s are permitted but must have started as that production-based vehicle.
Electrified: PHEV and EV vehicles. (All battery-powered vehicles will don an "Electrified" badge.)
Fully electric vehicles include the Rivian R1T and the Volkswagen ID.4. Three Jeep 4xe vehicles and two Kia Sorentos round out the PHEV subclass.
2021 is only the second year for PHEV and EV entries. Rebelle officially recognized battery-powered vehicles in 2020, when it introduced the new Electrified designation.
"The remote, long-distance course puts EVs and PHEVs to the test competing in the same class the vehicle is designed for. The rally goes further by working with Renewable Innovations to rapid-charge the vehicles with renewable hydrogen power," race officials explained.
Awards, Rebelle Party
The rally officially closes on Saturday, Oct. 16, with the awards ceremony and after-party in Imperial Sand Dunes, Calif. Awards are given for points earned, vehicle designation, and community recognition. Here's the breakdown:
Podium: 1st, 2nd, and 3rd finishers from each class receive Suunto watches and $5,000 credit off the following year's rally registration.
International Cup: The highest-scoring non-U.S. team will receive $2,500 to donate to the nonprofit organization of their choice.
Team Spirit Award: Chosen by the competitors and given to the team that displays the best attitude and helps others. This team will have $5,000 donated to the charity of their choosing.
Rookie of the Year: The highest-scoring team comprising two first-time Rebelles.
Daily Stage Winners: The highest-scoring team of the day's stage.
How to Watch Rebelle Rally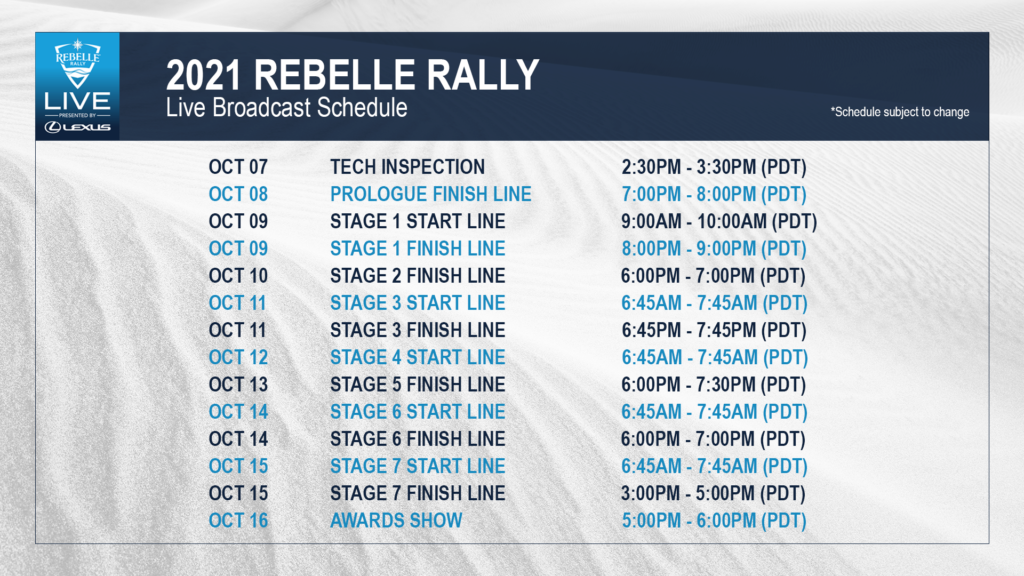 Rebelle Rally broadcasts a report of results, stages, and challenge breakdowns at rebellerally.com/live daily.
Check out team bios, track the race in real time, and more at the Rebelle Rally site or @rebellerally on Instagram.
Tech inspection is an important process for many reasons, including to verify adherence to vehicle requirements, and confirmation of of required items such as first aid kits. Tech inspection also allows for distribution of satellite phones and trackers. #rebelle2021 pic.twitter.com/YZCy9WNXJB

— Rebelle Rally (@rebellerally) October 8, 2021