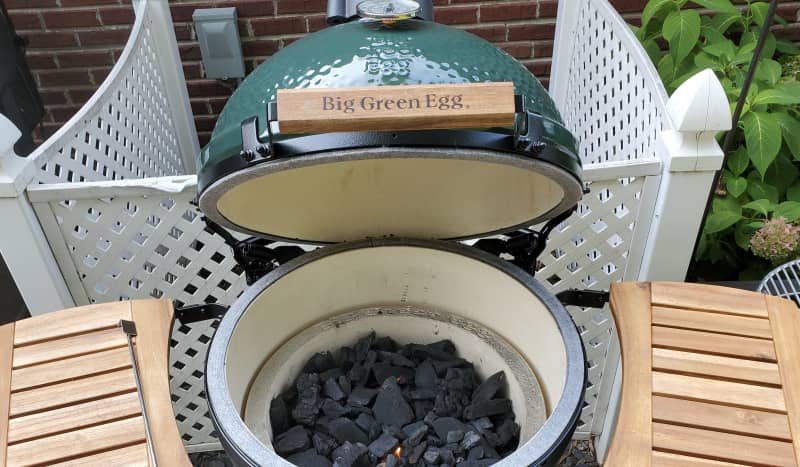 In this review, we are going to break down one of the best options on the market for cooking your wild game, The Big Green Egg!
The leaves have well started to change, and most are already beginning to drop here in Michigan.  This means one thing, fall hunting season is in full swing and us hunters are in the process of re-stocking our freezers that have been depleted over the past year.  Opening day of deer rifle season is just a few short days away and I am one of those many that will be afield looking to stuff the freezer again before seasons end.
This year I have a new tool in the arsenal to make those shared family meals even more special.  Late this summer I picked up a size Large Big Green Egg lump charcoal grill and have been practicing with it religiously to figure out any nuances in use so that I am ready come prime fall grilling season, which is right now!  Much to my surprise there are no nuances, in fact, it is just as simple to use as a propane grill, but the cooking results far exceed anything I have been able to accomplish with my old, and now obsolete cooking rig.
I was amazed at how easy it was to regulate temperature once you get the charcoal rolling.  This was probably my biggest apprehension as I didn't want to have to check the fire every couple minutes to make sure the heat was correct.  Especially when smoking or cooking something like ribs low and slow.  With some minor adjustments to the vent at the bottom of the grill to draw in air coupled with the correct setting up top n the chimney stack it is a breeze to control things with almost digital type precision!
A couple accessories I picked up to allow for ease and versatility with my BGE were the Nest stand which allows me to easily move the grill around the patio to keep the smoke off everyone. In addition to that I have the convEGGtor which means I can cook on indirect heat, perfect for baking where you don't want the fire actually touching the meal.  The flexibility is amazing, and I know there are other accessories in my near future.
To date, my go to fan favorite has been spatchcock chickens.  The perfect mix of moist and flavorful meat with a beautiful, golden brown and crunchy skin.  My recipe is as follows: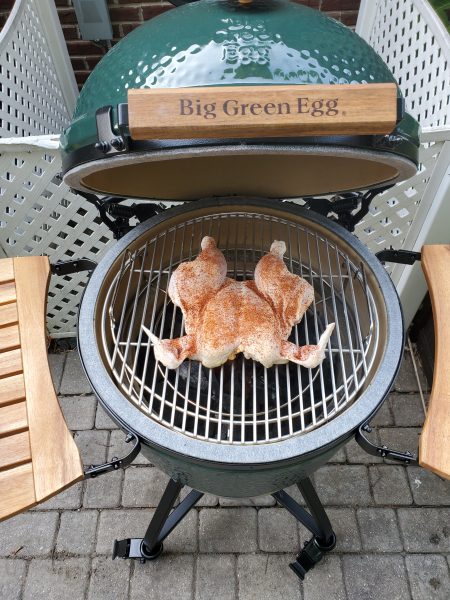 Ingredients
1 or 2 whole chickens (if you can fit more than one, I highly recommend it as leftovers are amazing!)
1 gallon of apple juice or apple cider
1 cup Kosher or Sea Salt
2 Tablespoons of whole black peppercorns
Your favorite dry rub or poultry seasoning
Instructions
Put the whole chickens in a Ziplock or container large enough to completely submerge them in the brine.
Add salt to a saucepan and add enough apple juice or cider to dissolve the salt thoroughly, apply heat if necessary but do not pour hot brine on to the chickens.
Add salt brine and peppercorns to the container with the chickens and fill up with the remaining cider or apple juice until completely submerged or covered. Refrigerate for at least 4 hours but up to 24 hours.
Remove chickens from brine and rinse completely.
Spatchcock the chickens and press flat. If you do not know how to do this YouTube is your friend and it is SUPER SIMPLE.
Pat chickens dry and apply your favorite dry run liberally.
Get your BGE rolling between 350 and 400 degrees and place chicken on the grill once up to temp.
Cook for about an hour or until internal temp of the chicken is about 165 degrees.
This recipe is super easy, and I can guarantee it will be a crowd favorite!
When determining what size egg you think you will want I always go with the motto bigger is better, you don't always have to fill up the grill surface but you are gonna be really sad when you do run out of room at a big family function!  Specs for the Large BGE from their website are as follows:
Specifications
Grid Diameter: 18.25 in / 46 cm
Cooking Area: 262 sq in / 1688 sq cm
Weight: 162 lbs / 73 kgs
The Large EGG can cook
20-pound turkeys
12 burgers
6 chickens vertically
8 steaks
7 racks of ribs vertically
For me, the Large egg is the perfect size in terms of how much patio space it takes up in relation to how much deliciousness I can whip up at one time.  Certainly some of you though are going to want to opt for the XL model which has the following specs:
Specifications
Grid Diameter: 24 in / 61 cm
Cooking Area: 452 sq in / 2919 sq cm
Weight: 219 lbs / 99 kgs
XLarge EGG can cook
2 20-pound turkeys
24 burgers
11 whole chickens
12 steaks
12 racks of ribs vertically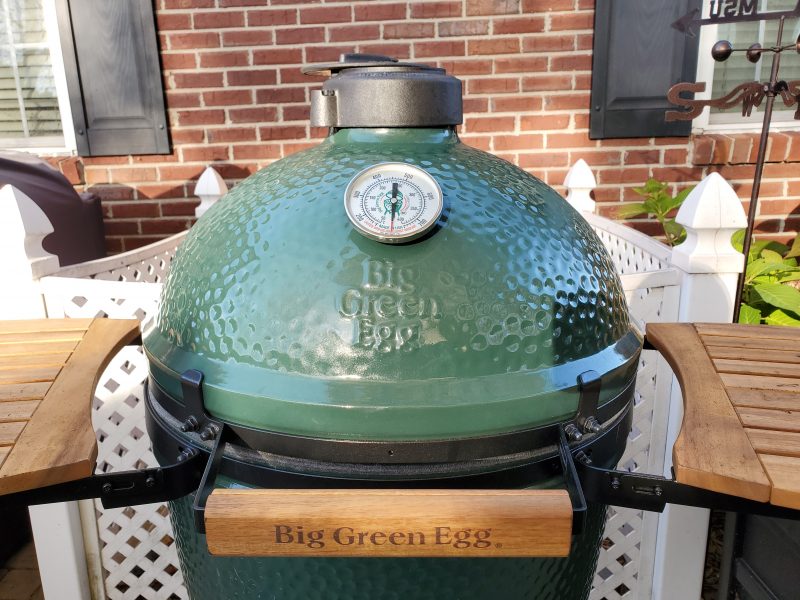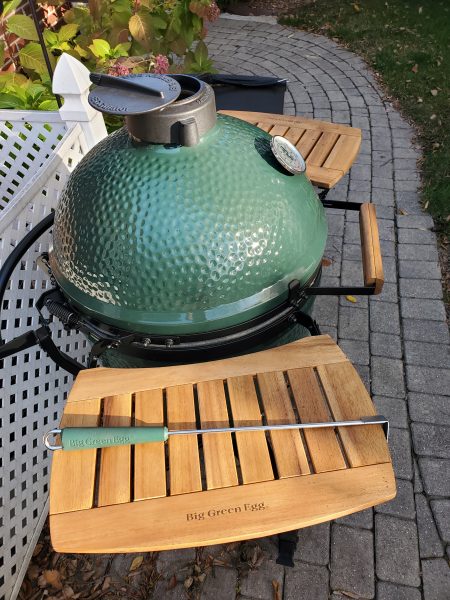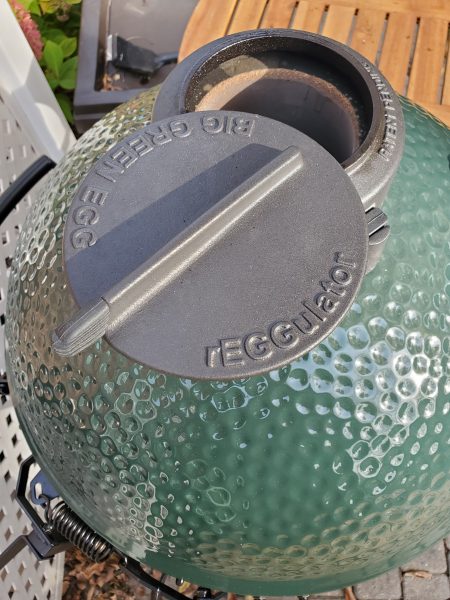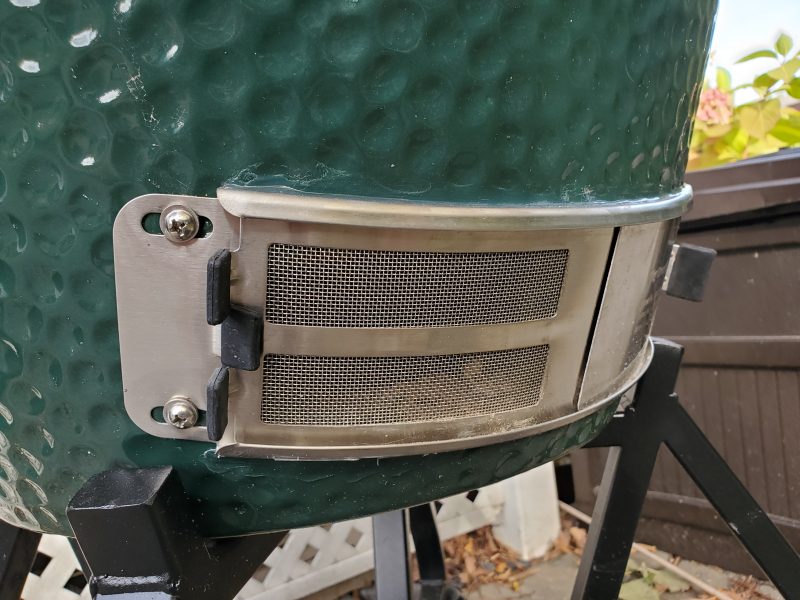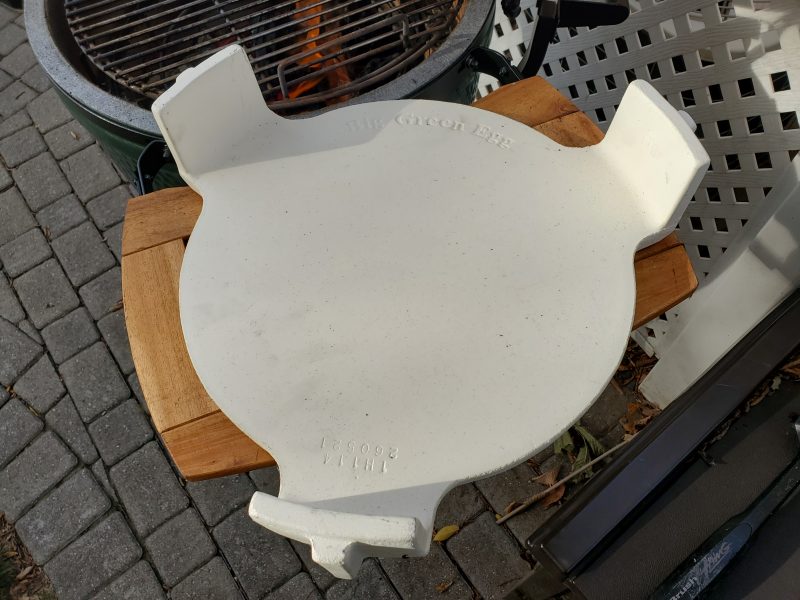 So far, I have been REALLY impressed with the versatility, ease of use and quality construction of my BGE.  I foresee a lot of great wild game dinners and maybe even some upcoming holiday meals being prepared on mine.  Throughout the fall I am going to check back in with some of my newest wild game recipes and let you know how they turned out.  Here are a few I am kicking around in my head:
Bacon Bison Burgers from a Bison I just harvested out in South Dakota
Smoked Venison backstraps (hopefully) from a Michigan whitetail, we'll see after next week's opening day
Spatchcock pheasant, something I want to try based on how successful the chickens are!
And maybe, just maybe a fall turkey for Thanksgiving…..a Butterball may have to be substituted based on my hunting prowess.
In summary, I highly recommend you look into all of the BGE products if you are kicking around the idea of getting one.  They are easy to setup, simple to use and the results speak for themselves.  Be sure to check back in this fall to see how some of my new creations turn out.  For more information on the Large BGE or any of the other sizes or accessories head over to www.biggreenegg.com and check them out for yourself!