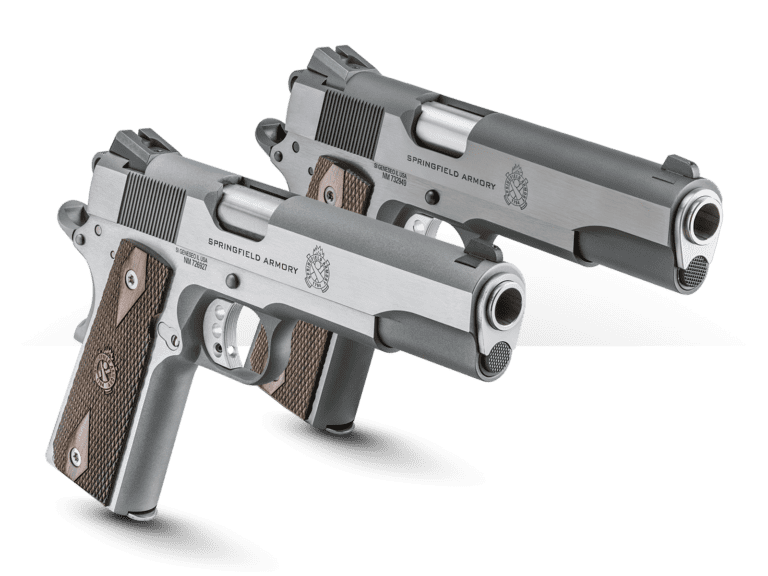 If you're a fan of the 1911 platform and have been waiting for a more affordable option from a well-known manufacturer then you'll be glad to hear that Springfield Armory has expanded its lineup of 1911 offerings to include the new Garrison 1911 pistol chambered in 45 ACP. The new 1911 offering blends the classic look and function of the 1911 pistol and pairs it with modern features such as the Garrison's Forged Stainless Steel match-grade barrel, skeletonized hammer, and even a matte stainless-steel finish option. The new Springfield Armory Garrison 1911 will be sold for under $1,000 making it an attractive option for collectors and frequent shooters alike.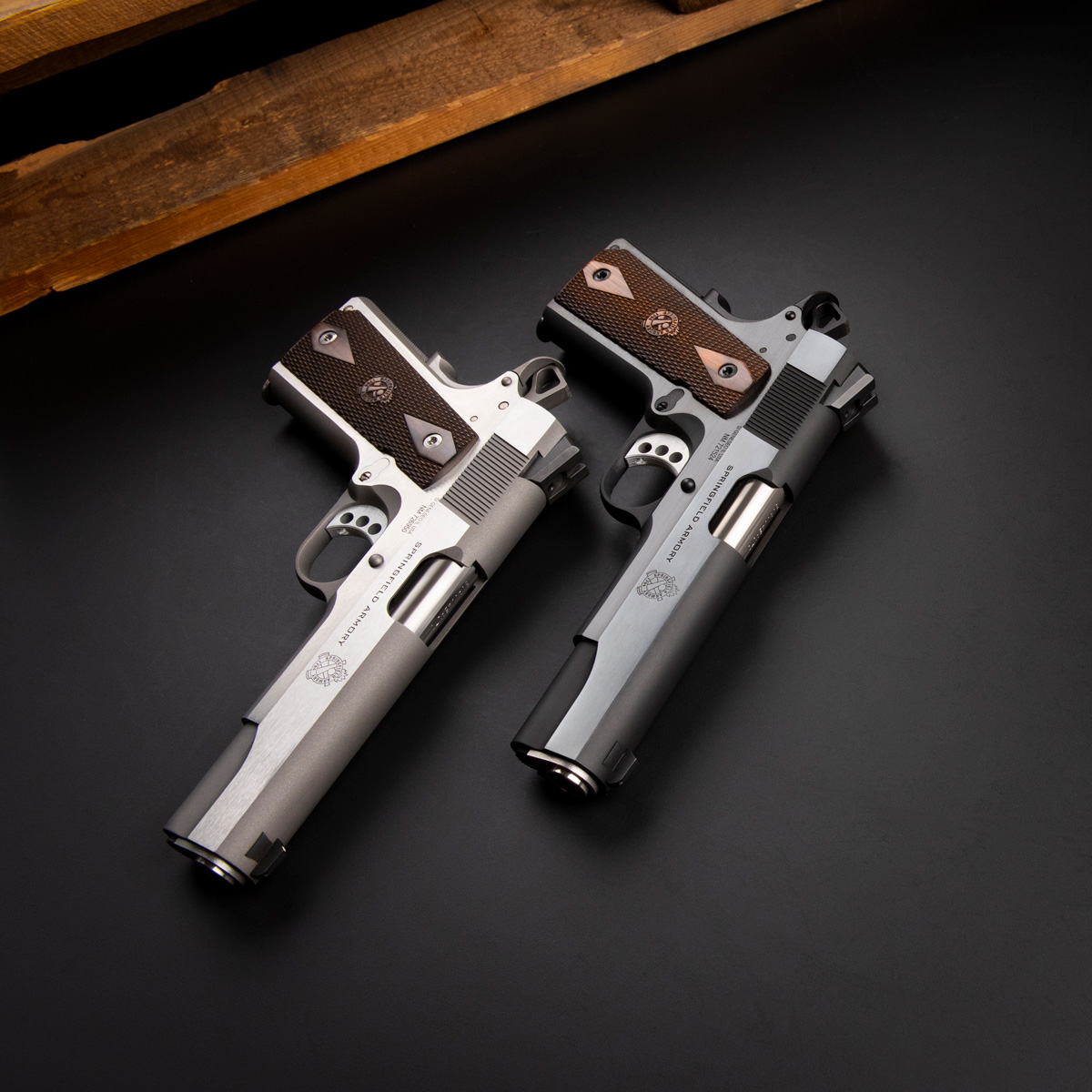 Modern Features and Classic Design – The NEW Springfield Garrison 1911
Caliber: .45 ACP
Barrel: 5″ Forged Stainless Steel, Match Grade, 1:16
Slide and Frame: Blued, Forged Carbon Steel | Forged Stainless Steel
Sights: Low Profile Combat 3-Dot
Recoil System: GI Style
Grips: Crossed Cannon Wood Laminate
Magazines: (1) 7-Round
Weight: 37 oz
Length: 8.6″
Height: 5.5″
MSRP: Blued – $800 | Stainless – $849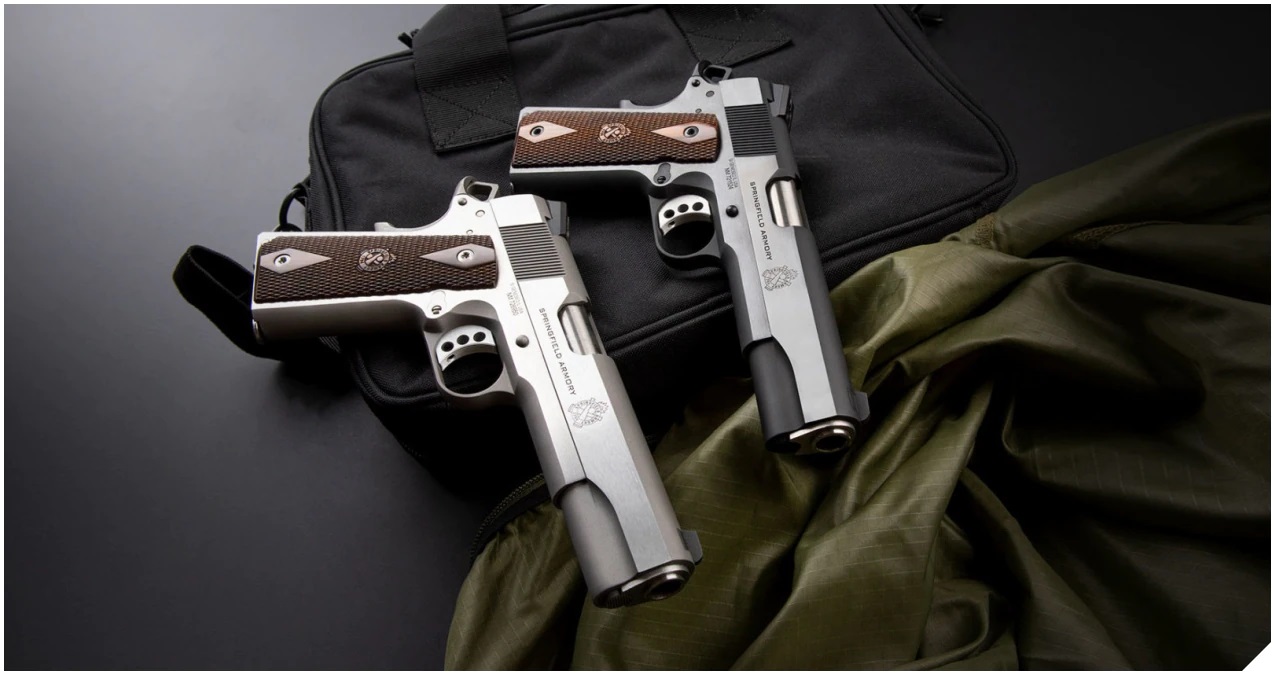 The intention with the release of the Garrison 1911 is to appeal to those "who respect tradition and demand the quality for which Springfield Armory 1911 pistols are known," according to Steve Kramer, Springfield's VP of Marketing. The Garrison 1911 offers modern improvements to a classic design by way of its forged steel slide and frame, match-grade stainless steel barrel, skeletonized hammer, extended beavertail grip safety which is even topped off with a memory bump for a consistent grip.
I'm looking forward to seeing how the new Garrison 1911 will perform in the highly competitive 1911 handgun market. The Garrison 1911 comes hot on the heels of the release of the Springfield Emissary which was their more budget-friendly option for high-speed low drag 1911 options. The Garrison is coming in nearly $200 less than the Emissary which will make it a tempting offer for those who like the classic lines of the 1911 pistol but with more modern features
Most modern 1911 offerings from reputable and well-respected gun manufacturers often fetch well over $1000 as a starting price point but the Garrison 1911 is coming in at a "buy it now" $800  which should be attractive for many who like the platform and would appreciate the modern enhancements made to the pistol. With original features like its classic barrel bushing system and wood grips, the Garrison 1911 should ring true for experienced 1911 operators and newcomers alike.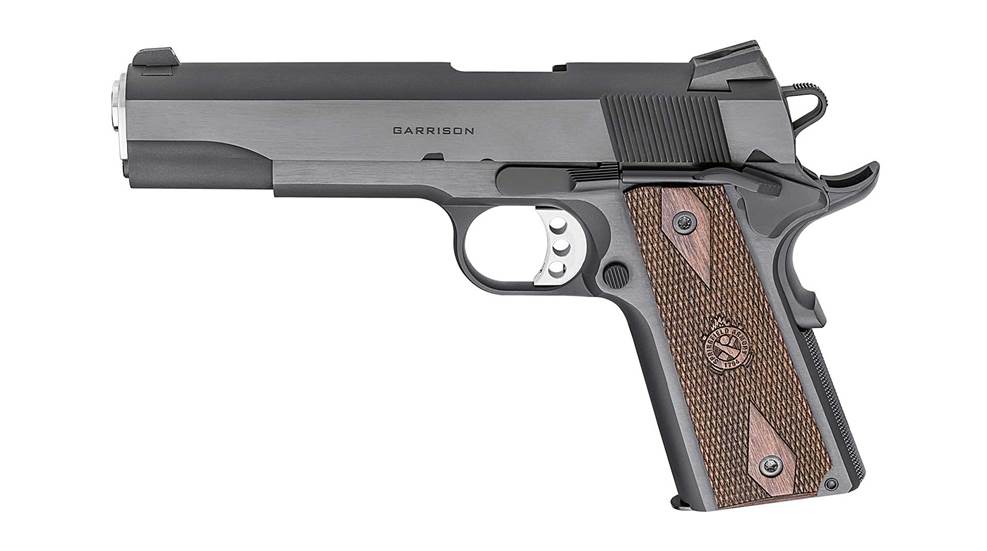 Featuring forged materials and heirloom-quality construction, the Garrison 1911 combines modern materials and design with a heritage spanning back more than a century. Available with classic hot salt blued carbon steel or rust-resistant stainless steel construction, the Garrison is a rock-solid 1911 that gives you a host of modern upgrades along with the strength to provide a lifetime of service. For those who respect tradition and demand the best, the Garrison stands ready.