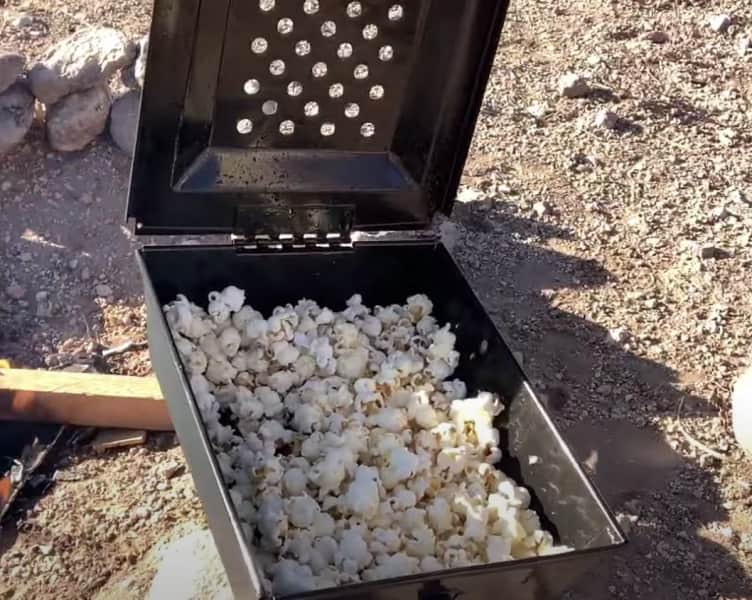 Welcome to OutdoorHub's new weekly feature, "Outdoor Eats".  In this series, we would like to share some of our favorite recipes and food techniques for your camping, fishing, hiking, hunting and outdoor adventures.  To kick off this series, here's Morgan sharing her tips for campfire popcorn!
Outdoor Eats: How to Pop Popcorn Over a Fire
If you asked me what my love language is, I would say popcorn. Some might say I'm obsessed with popcorn and I'm ok with that. Because I am. I make sure I have plenty of popcorn on hand as me and my family eat it on a regular basis. If there were an apocalypse, I'd be known as the popcorn smuggler.
Popcorn is an absolute essential part of any outdoor experience, right alongside s'mores, in my opinion anyway.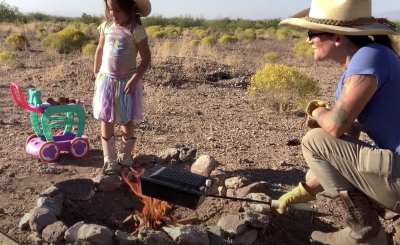 Alright, now that you know my level of love for popcorn, I'd like to impart a bit of history onto you.
Did you know that some of the oldest popcorn kernels were found in "Bat Cave" in New Mexico? It was carbon-dated back to approximately 5,600 years ago!
However, evidence of popcorn can be found all the way back to 300 A.D. across many regions. Popcorn has a rich history and was enjoyed by many.
Imagine being the first person who stumbled upon that discovery, what a joyous day that was.
Popcorn remains one of the most popular snack foods around.
Want to bring it on your next adventure? No need to pop at home and bring stale popcorn out with you on your adventure; pop it to order!
Here's how to pop popcorn over the fire on your next outdoor adventure: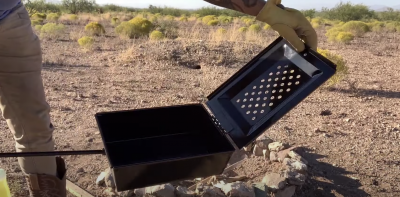 What you'll need:
Little bit of oil
Popcorn
Popcorn popper (as seen in picture above) or some type of container appropriate for use over the fire with lid
Gloves, to hold the handle of the popcorn popper
Butter or dry seasoning for the topping if you wish
How to make it:
Start your fire, it doesn't need to be huge, but big enough for sufficient heat.
You may use a popcorn popper, but you can also use almost any type of pot that has a lid and is safe to use over a fire.
Place a bit of oil in the popcorn popper, just enough to coat it sufficiently.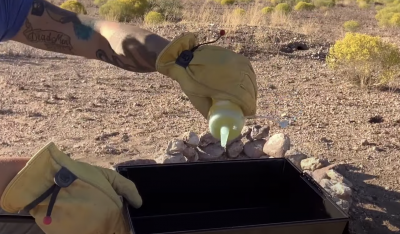 Place about 1/2 cup of popcorn inside, depending on the size of your popper. Remember that these are going to pop so make sure there's plenty of room and don't put too many kernels inside where they might get crowded and burn. Start with less, you can always pop more!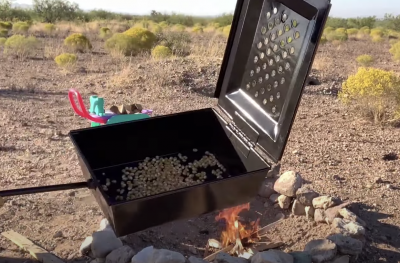 Put the lid loosely on, maybe even tilt it as it'll need a bit of air flow, then hover the popper over the fire, you can place it on a grate, but you'll need to be moving it around so stay close.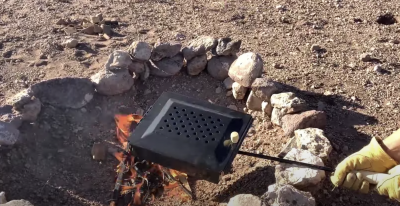 Once you start hearing some sizzling and crackling, it's just about ready to start popping. Start gently shaking the popper back and forth.
You should start hearing the popcorn popping rabidly, keep shuffling the popper back and forth until the popping has slowed or stopped. Once they start popping it should be just 1 or 2 minutes before it's completely done so keep an ear open and don't leave it on too long to prevent it from burning.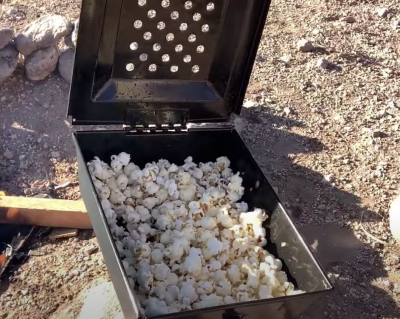 As soon as you pull from the fire, place some melted butter on it or some other seasoning, if you desire. It's good enough all on its own, too.
Enjoy your freshly made popcorn!