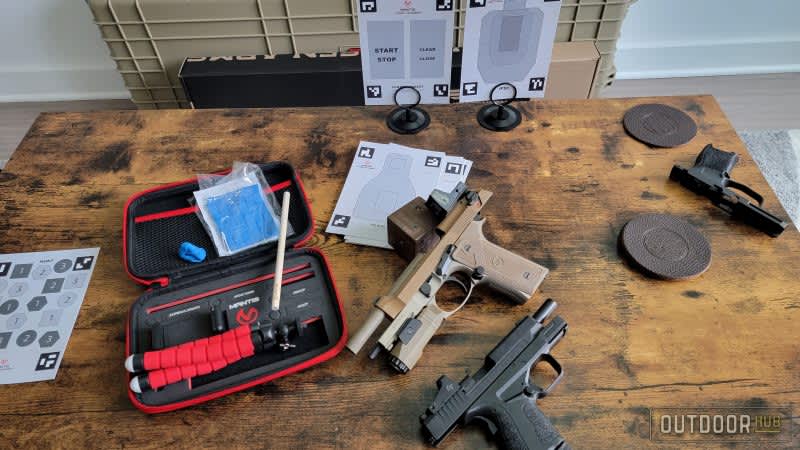 Last year we saw a sharp rise in the pricing of available ammo followed by a sharp decrease in the amount of ammunition available. Even now nearing 2022, the ammunition found on the shelves at big box stores and even online still retains the astronomical pricing from the previous year's events. For competitive shooters like myself and even for people who take their concealed carry duties seriously, trigger time is still an important factor. The MantisX Laser Academy Training Kit is one device developed by the folks at MantisX to help shooters bridge the gap between live fire and standard dry fire in the hopes that it will continue to help you refine and improve your trigger technique, all without the added cost of live ammunition. MantisX sent over one of their Standard Laser Training Academy Training kits for me to review and today we'll do just that.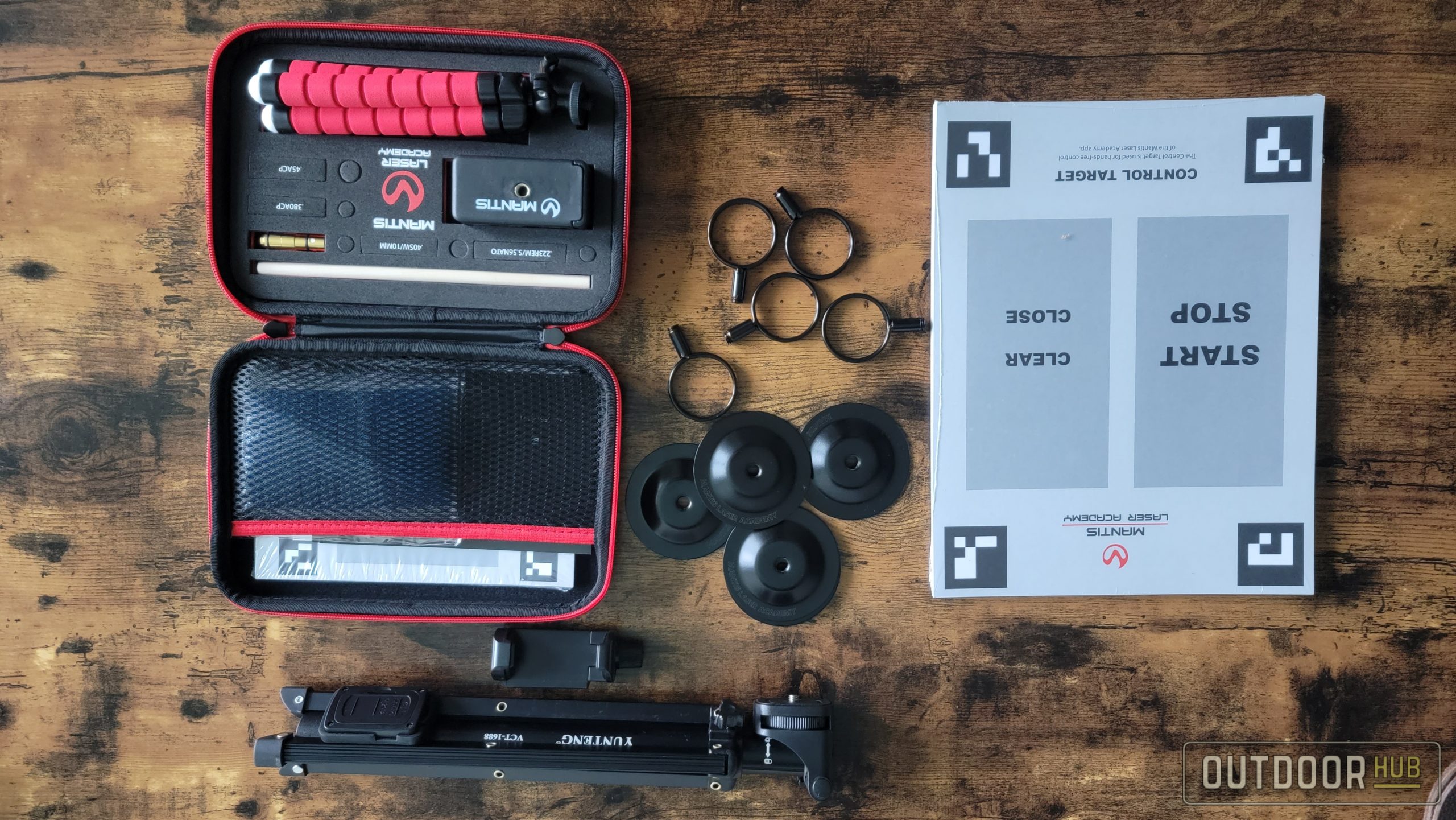 OutdoorHub Review: The MantisX Laser Academy Training Kit
The MantisX Laser Academy Training Kit (standard version) comes with everything you'll need to keep your trigger finger conditioned either at home or on the road. The Standard training kit comes with both a small and large tripod for use with a smartphone, small and large targets for use at home or on the road, and even a convenient carrying case that will fit into any backpack or carry-on bag without issue. Best of all, whether you've married yourself to the iOS or Android operating system, the MantisX Laser Academy app works on both platforms very well, and from what I could tell there is very little difference if any between the iOS and Android versions of the app.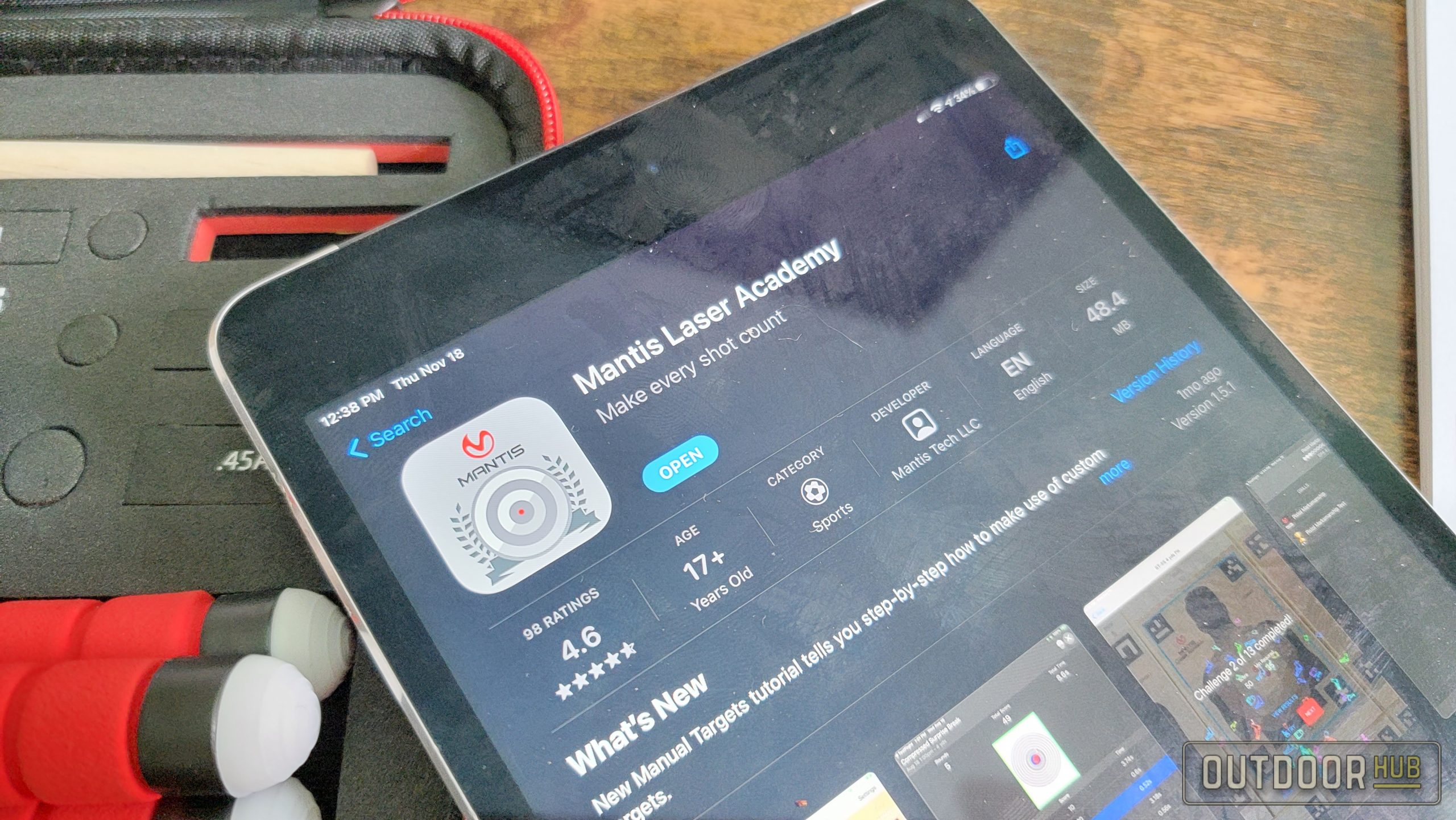 Standard Kit contains:

Full Access code to Mantis Laser Academy ($99 value)
Pink Rhino laser (select caliber)
Complete set of 5″x7″ Laser Academy Smart Targets
Complete set of 8″x11″ Laser Academy Smart Targets
Mini tripod and smartphone holder
Large tripod and smartphone holder
Laser cartridge extraction stick
Portable carrying case
NEW: A set of target stand holders (5)
The MantisX Laser Academy is compatible with a wide array of calibers including rifle calibers like .223/5.56 but is most popular with handgun calibers like 9mm, .40 S&W, 45 ACP, 380 ACP, 38 Special, and 357 SIG. Since most of the handguns I own are chambered in 9mm that is the caliber I asked to be sent for my review. One thing I would really appreciate is if MantisX would possibly consider adding 22lr to the list of calibers since I would really love to get some more practice time on the road using my 22lr pistols. However, due to the operating mechanism behind the MantisX Pink Rhino Laser Training Cartridge, rimfire calibers may not be entirely possible. (The Training Cartridge can be purchased separately using the link above).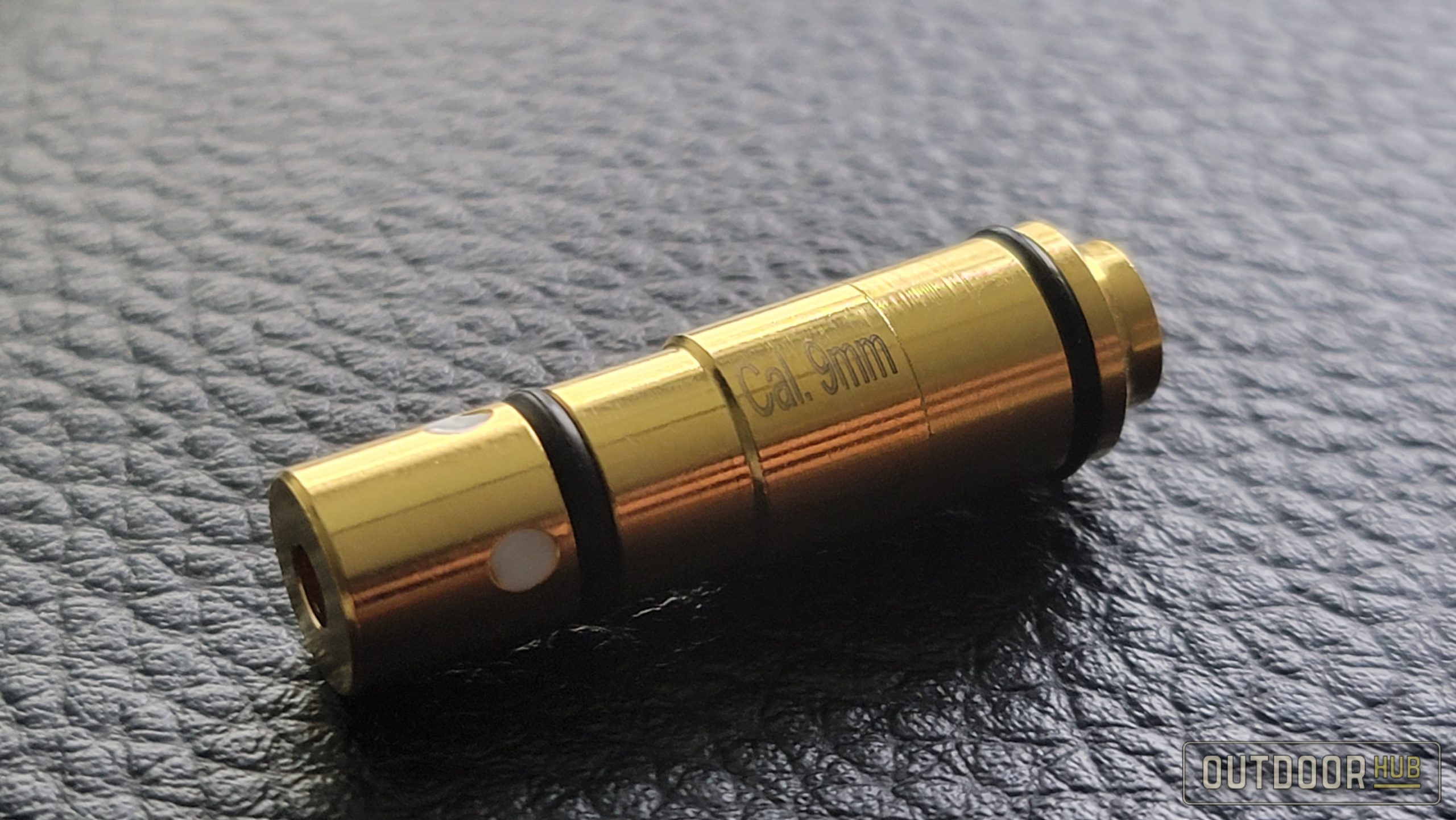 Ease of Use
While getting to the range isn't exactly difficult for me to do (I live right down the street from my facility) I know that a lot of people may live in the middle of a city where access to a gun range isn't always convenient. Even so, some people may just want an at-home solution for their training regimen without the need to spend money on ammo and range fees. To that end, the MantisX Laser Academy is a great solution.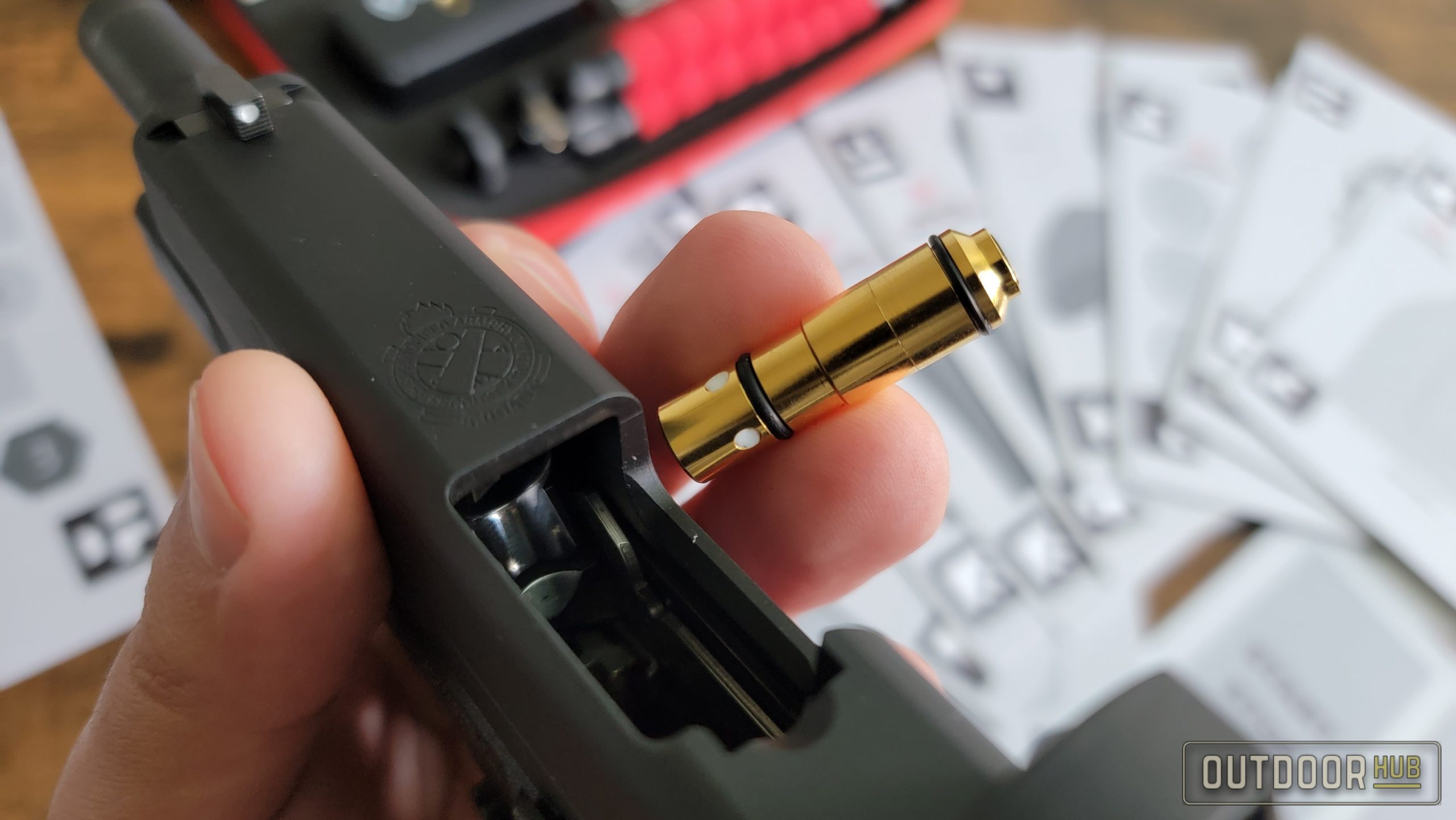 Setting the app up is quite easy and all that is required for registration is an email address so you can start up your MantisX account. My version of the Laser Academy Training kit came with a free coupon code to access the "PRO" features of the app which include more regimented courses of fire as well as some really cool "dueling" modes which I was unable to use since I didn't have an additional laser. This one seems like it would be great to get together with a couple of your buddies and run some friendly competitive drills. The kit even includes two copies of some targets so that they can be used with a friend.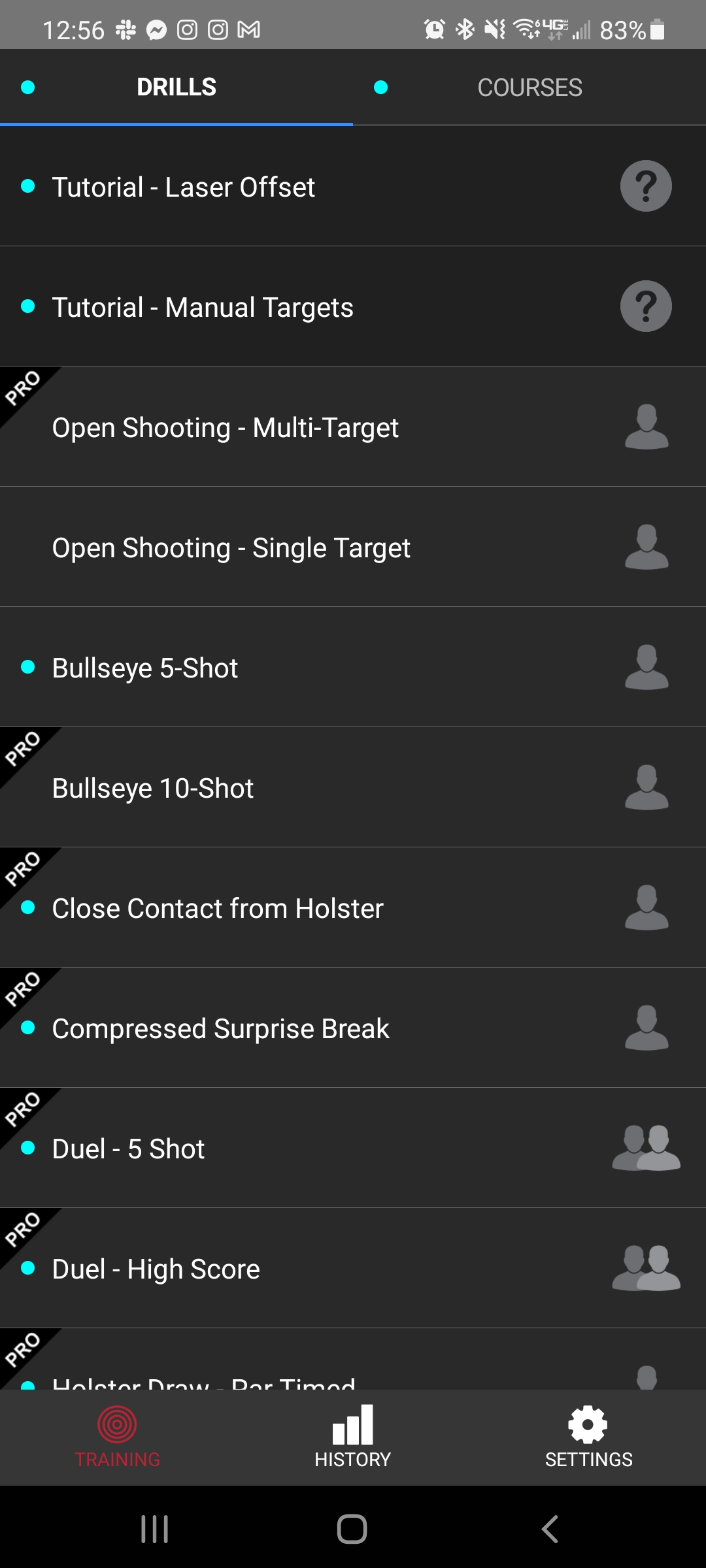 What I like most about the setup process is that after downloading the app, the first "training" option on the list is 3 tutorials that show you how to use the app and set up your targets for a great practice session. Another cool feature I noticed is that the kit contains "control" cards which are start/stop/clear/restart buttons that you can use your gun/laser to operate the app through the camera. This prevents you from having to walk up to your phone and touch it constantly and is a major improvement over other similar laser training apps.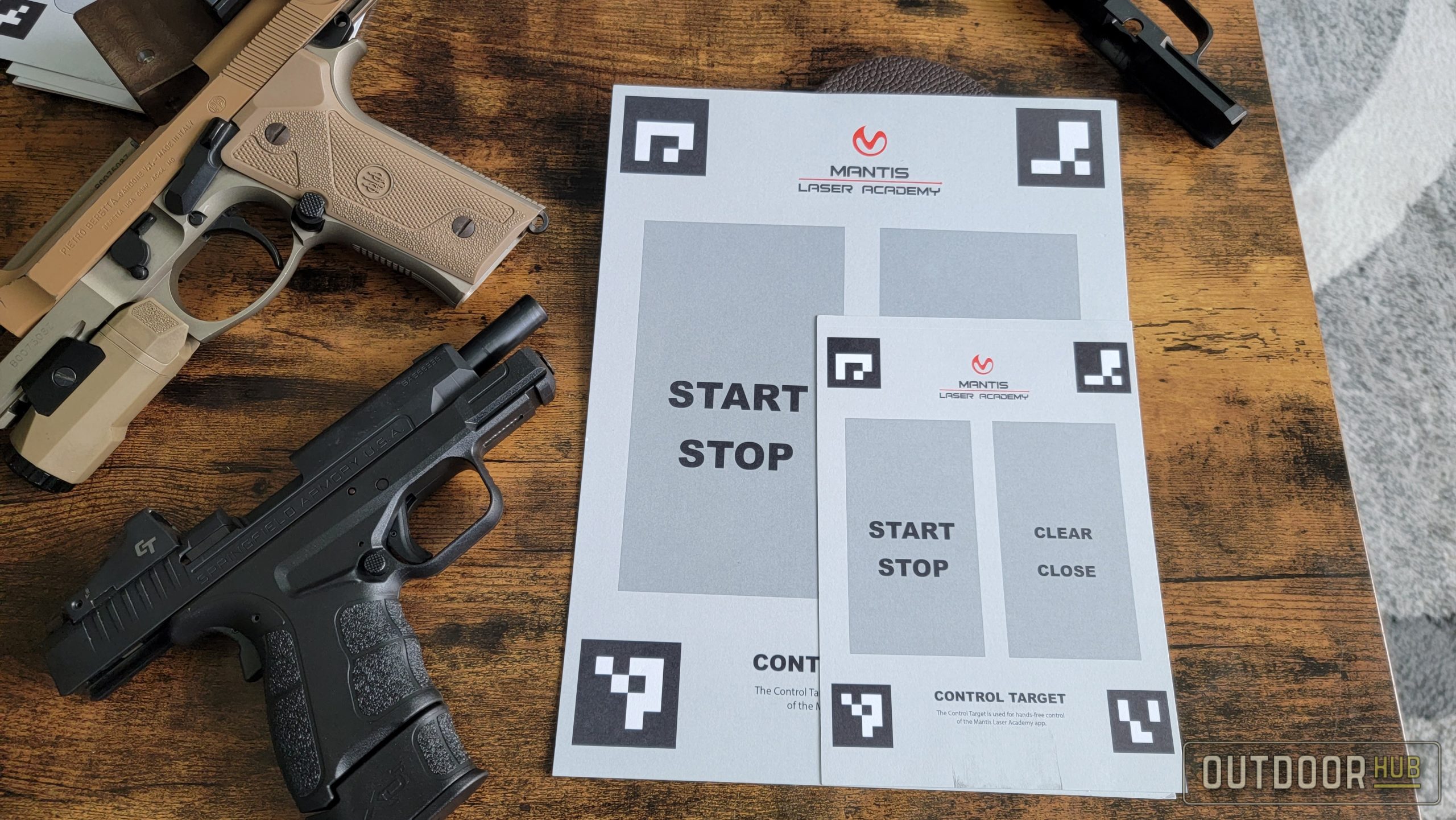 Training on the Go
While I appreciated the large tripod, large targets, and the target stands, most of my experience with the MantisX Laser Academy kit came from a number of trips I've gone on over the last couple of months. I travel a lot for work and this can usually get in the way of two things – gym time and trigger time. The gym issue is easily solved since most of the hotels I travel to feature gyms, but ranges aren't exactly easy to come across and that is why it is my opinion that it was very forward-thinking for MantisX to design their laser academy system around those of us that travel for a living.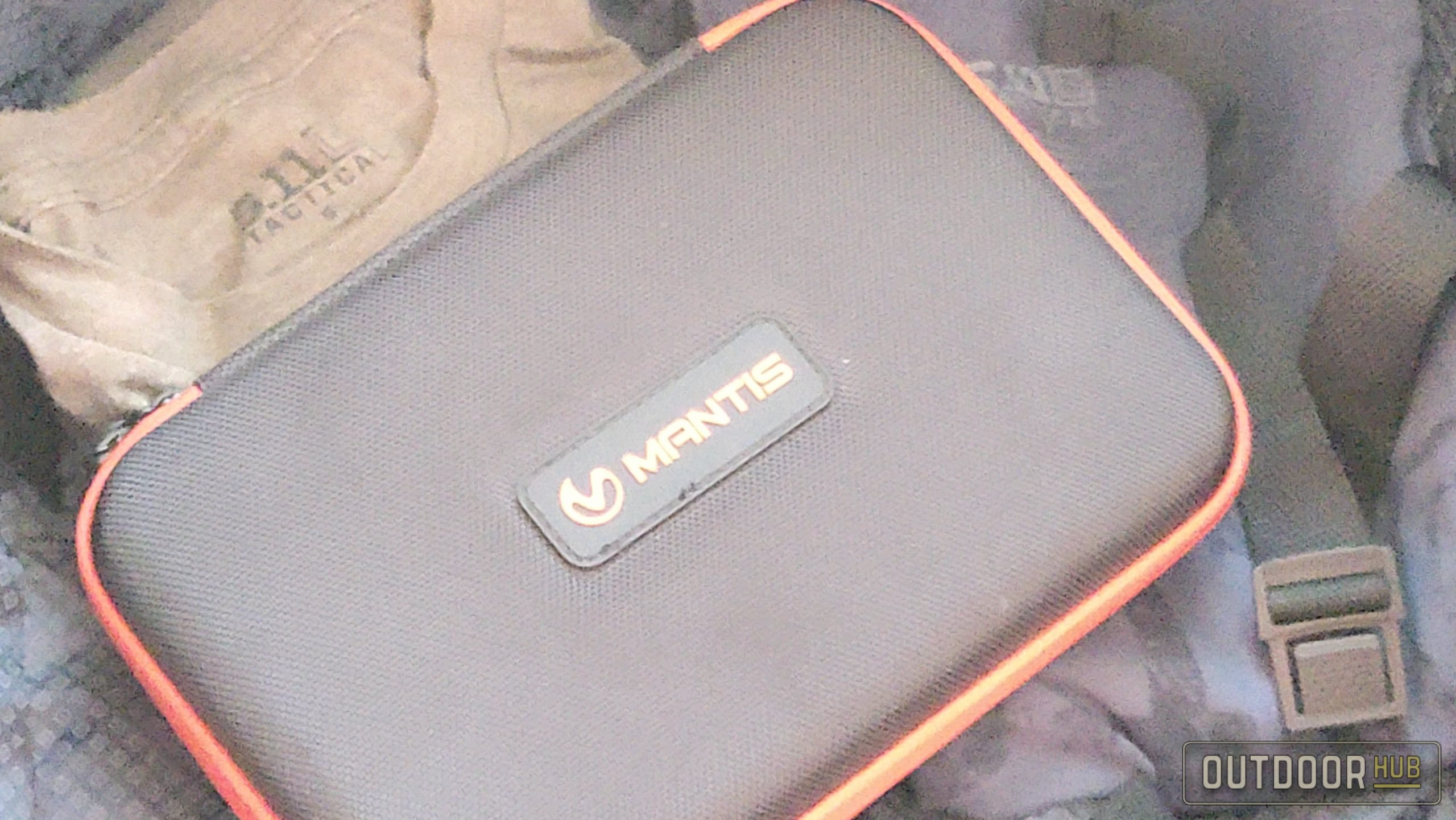 The travel kit features scaled-down target sizes which work very well in the small confines of a hotel room and the audible gunshot features and noises can be muted in case you're worried about neighbors hearing the artificial gunshot noises. The convenient little travel case holds everything you'll need to keep training while out of town. The Case itself is discreet enough and unassuming and out of the 8 or so times I've gone through TSA with the kit in my carry-on luggage, I've never had it flagged for additional screening.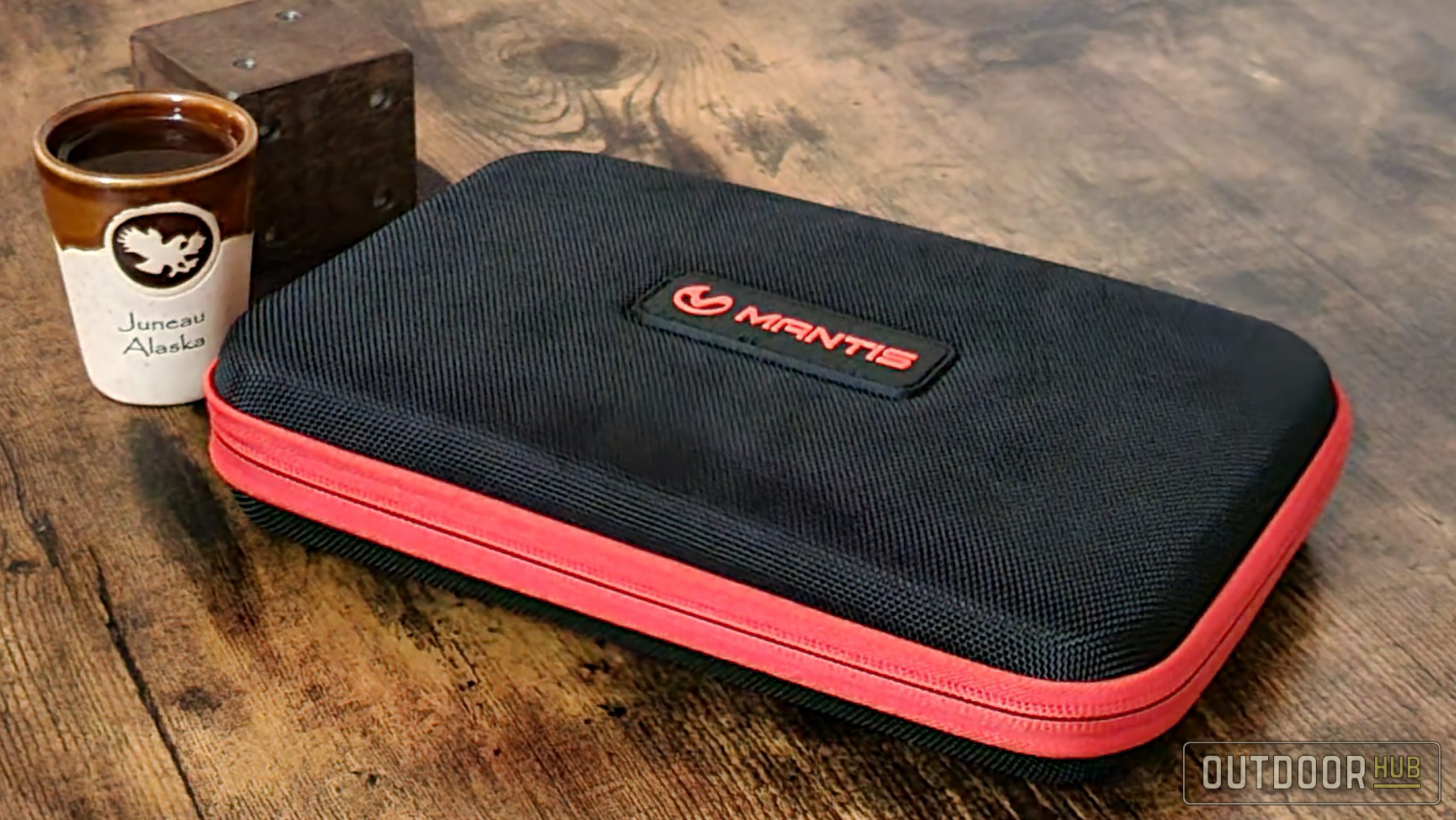 On a final note, I really think that the MantisX Laser Academy app is the cornerstone of the entire setup. Despite the app being free, there is a lot of value contained inside of it including an entire marksmanship course that you can go through to get a solid metric for your training progress. This is a great way to see if your skills during dryfire are actually improving or if they are just stagnating and you need to do something to improve. In a world where everyone is focused on the latest and greatest tech, the MantisX Laser Academy kit is giving you something that is entirely valuable to you – data on your performance.
Final Thoughts
I really like the MantisX Laser Academy Training kit. For a price of $150, you're basically getting an unlimited amount of trigger time that comes complete with active feedback. To put this in perspective, that same $150 will only get you 5 boxes of 9mm ammunition (250 rounds). While it doesn't simulate live fire perfectly, it is training your trigger finger to be precise, repeatable, and quick, all without costing you a single cent beyond the cost of the kit itself.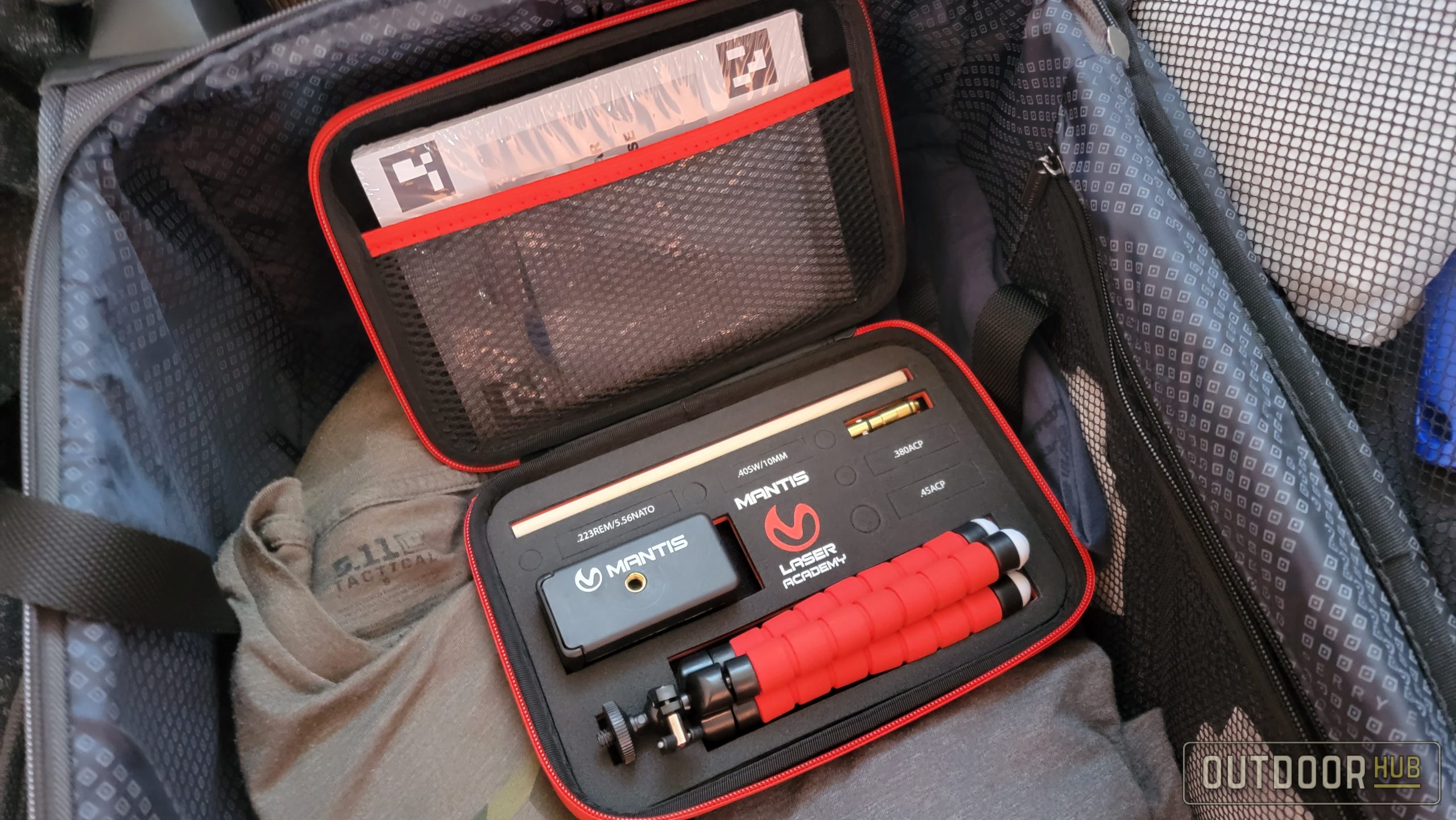 As a final thought, I would really like it if I didn't have to rack the slide every single time I wanted to reset the laser. That is why my personal recommendation would be to use a double-action/single-action handgun for ease of use. Other kits out there do have CO2 cartridges that automatically cycle the slide for you but that always adds additional cost. I think the kit gets the most value out of having quick follow-up shots without the need to rack the slide and that is why I think double-action pistols get the most benefit out of the kit.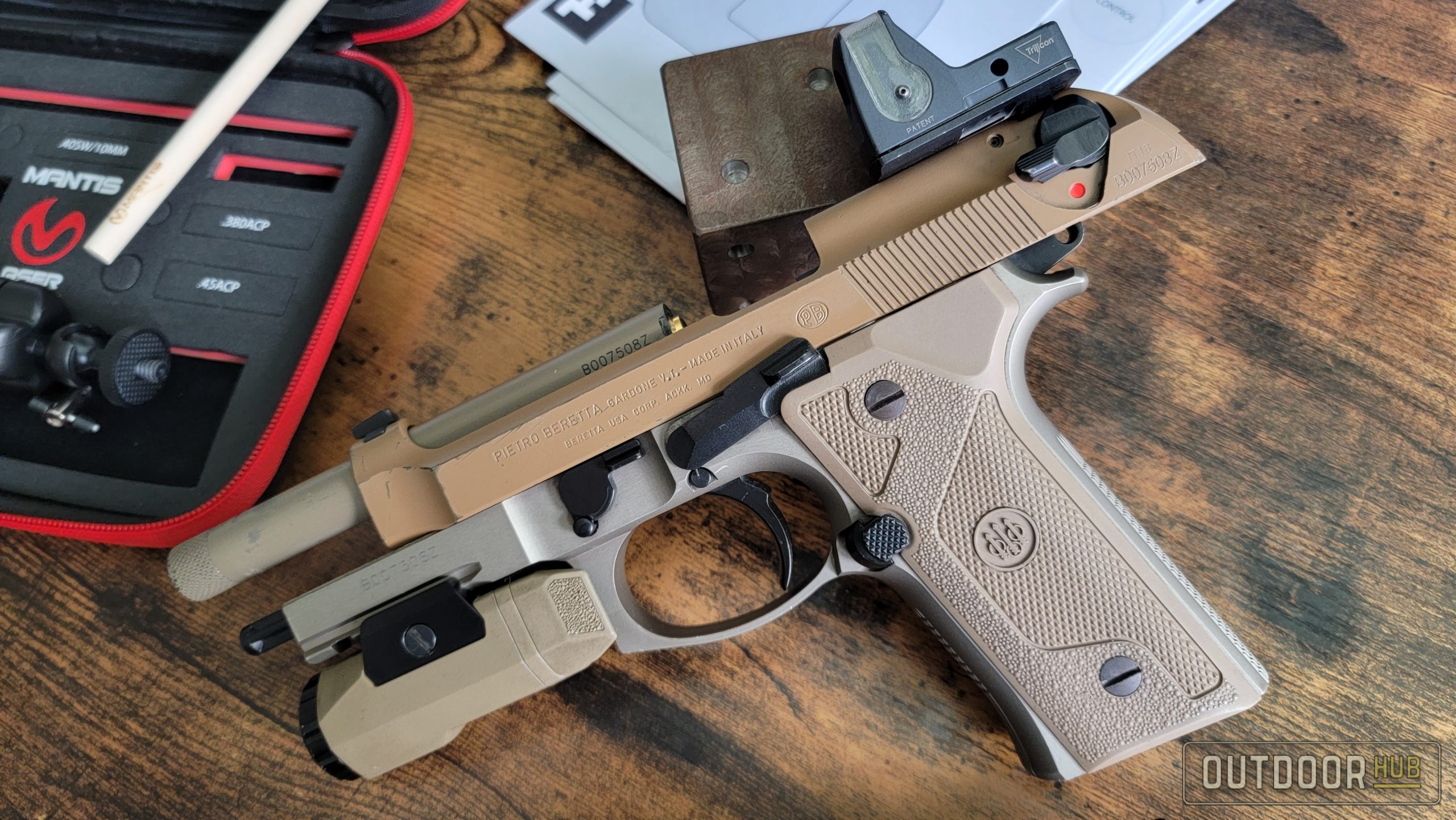 Either way, I think for a price point of $150, the MantisX Laser Academy Training kit is a great value if you're serious about keeping up with a standard training schedule to keep your trigger finger honed, and to keep yourself honest about how well you are at putting shots on target.