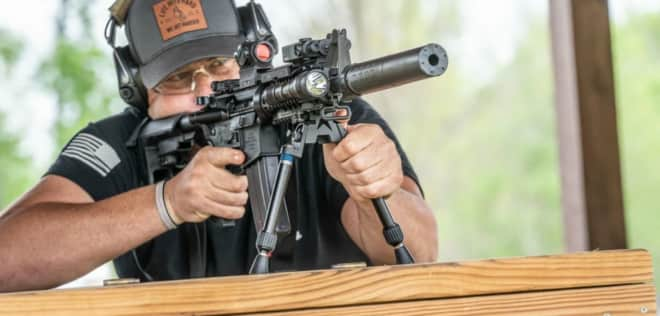 +
–
Table of Contents

I want a military-grade bipod. Which one is issued to the US Military?
The United States Military uses a wide variety of both commercially available and propriety bipods for their small arms. One of the most common within the US Military is the GG&G XDS Bpiod which was selected by the united states army to accompany their precision rifle shooters. These bipods feature flat feet, extreme durability and are about the middle of the road in terms of price costing you about $200. They are a solid option if you can afford them but there are better bipods out there that have better features for a modern competitive shooter.
What kind of bipod is best for hunting?
This is really going to depend on what type of hunting you're doing. In my opinion, the more versatile your bipod is for your given situation the better. I often like to have the ability to adjust my bipod to very long lengths which can help you make up for the fact that you could be shooting off of a tree, from a prone position, or maybe even out of a tree stand. I would find a bipod that has a lot of range adjustment in the legs and also doesn't make a lot of noise when being deployed so you don't prematurely scare away any potential prey.
I don't know what height of bipod to get – what is the most common?
The most common bipod height will be ones that fall into the 6 to 9-inch category. Most modern bipods are adjustable to within this range but some bipods will be shorter and some will be much longer with some of them extending closet to 20-inches. The six to nine-inch height range is the most common largely because it is ideal from shooting from the prone position and also doesn't become too unstable with the extensive range of the legs. You will however find that this specific bipod size is very inadequate for shooting up or down steep hills and won't work very well if you're hunting in the prararie before all the grass has died off.
We are committed to finding, researching, and recommending the best products. We earn commissions from purchases you make using the retail links in our product reviews. Learn more about how this works.