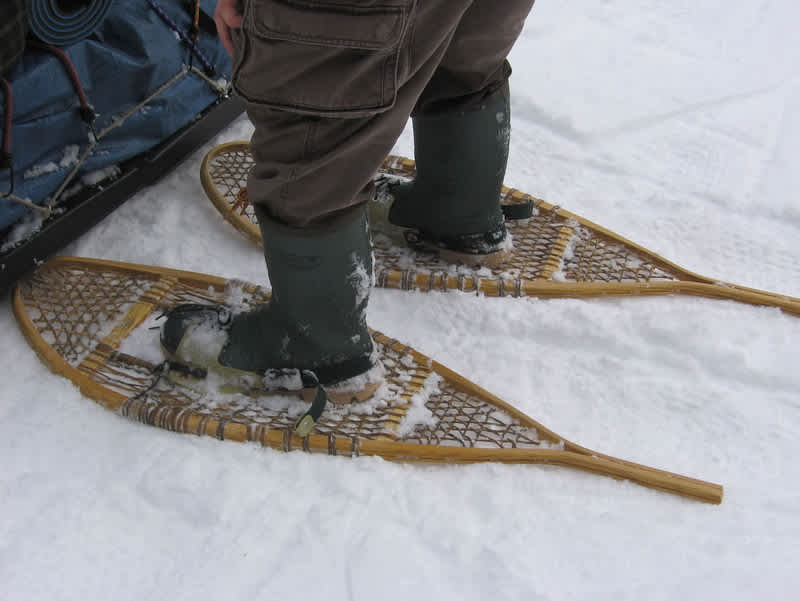 +
–
Table of Contents

Picking the right snowshoes for you
There are a few things to keep in mind when picking out the best snowshoes for you. Getting the wrong ones can prove to be exasperating and costly. The premise for most all snowshoes is the same – you are trying to expand your footprint over the snow to keep you on the surface and not sinking in as much as you would.
Look at weight capacities before you buy and don't overload your shoes. It can lead to you still sinking into the snow and being in more trouble that before.
Look at the design and know what you plan to do. Most recreational snowshoes are designed for moderate terrain, while serious backcountry snowshoes will be equipped for more vigorous usage and icy terrain.
Most modern snowshoes are made with an aluminum frame and are lightweight and compact. Traditional snowshoes are made from steam-bent wood and interwoven cording that creates the float. These shoes are larger and heavier, but offer that traditional feel and enjoyment.
Can you run in snowshoes?
First off, good job thinking outside of the box. Second, technically yes, you can run in virtually any style of snowshoe, and in fact, there are specific races and snowshoes dedicated to this particular sport. Snowshoe running obviously takes additional effort but when you're running across miles of unpacked snow, the snowshoes actually help you keep up your pace without making you do the extra work of digging your feet out every time you take a step.
Do I need poles for snowshoeing?
Trekking poles aren't necessarily required for snowshoeing but they do help increase your stability on uneven terrain. Much like skiing, some pros like to forego the poles in order to save on weight and bulk but they become increasingly important when you're on extremely uneven or steep terrain.
How deep is too deep for snowshoes?
You can theoretically walk on any freshly fallen or powdery snow of any depth with the right-sized snowshoes. What you're essentially doing is "floating" on the snow and how much you float is largely determined by the amount of displacement you can generate  (think of your feet like a boat, the bigger and wider it is the more shallow it floats in the water). You'll have to size your snowshoes specifically for your weight to include yourself, and your gear to make sure you're not sinking too far into the snow which can lead to a more frustrating hike.
We are committed to finding, researching, and recommending the best products. We earn commissions from purchases you make using the retail links in our product reviews. Learn more about how this works.