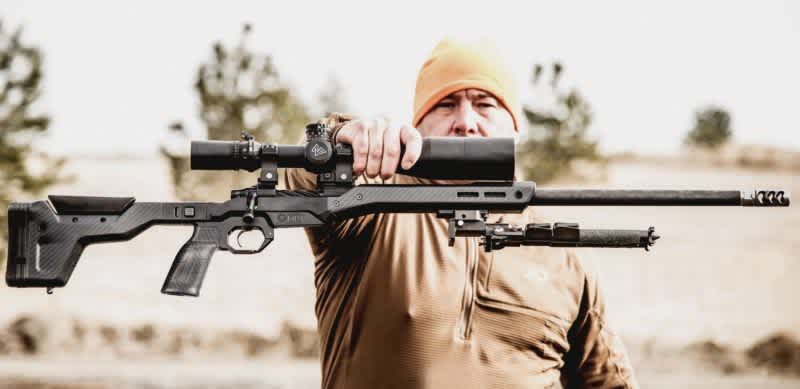 +
–
Table of Contents

Why you should consider a chassis rifle platform
Chassis rifles are a unique thing. Either people love the look, or hate it because it doesn't fit the traditional mold of a bolt-action rifle. Either way you slice it, there is definitely some good reasons to dive into the chassis rifle pie.
If you're into accuracy, the chassis platform is for you. All of the tricks that rifle builders and shooters have tried over the years can be found in one place. The barrel and action and completely bedded and dialed into the stock, making it a great way to ensure the bullet goes precisely where you intend.
The chassis platform also adds versatility. You can adjust cheek comb, length of pull and more with most chassis platforms. You also have more options for adding accessories, like bipods and hand holds. There is much more adjustability in the chassis platform, too. You can  truly fit the rifle to you, and do so easier than ever. This type of platform also lends itself to adding external magazines.
Chassis rifles came out of competition rifles, and are a great tool for that, but they work extremely well for hunting, military and law enforcement applications as well. Pretty cool stuff. And the costs associated with chassis platforms has come way down, giving you more options for your shooting needs.
What is Length of Pull (LOP) and why is it important?
Length of pull is a distance of measurement from the butt of the rifle to its trigger. The Rifle's LOP will differ from the shooter's LOP but where a shooter's LOP is fixed, rifles can be adjusted to match the shooter making for a more optimal shooting position. LOP can often be adjusted minimally on standard stocks by replacing butt pads or adding spacers but modern PRS chassis feature LOP that is adjustable in the field and often without using any tools.
Can I use a rifle chassis for hunting?
Even though PRS style rifle chassis is primarily designed for precision rifle shooters they actually work quite well for hunting applications too. A properly equipped rifle chassis can help convert your rifle for use by a younger or smaller shooter on the fly making it suitable to share as a family hunting rifle without modification.
Do rifle chassis systems require custom fitting or installation by a gunsmith?
No. nearly all rifle chassis are built to exacting specifications and for specific rifle and action types. Rifle Chassis are more or less drop-in parts that require very little know-how to install properly and it can be done without going to a gunsmith or having it installed by the factory.
We are committed to finding, researching, and recommending the best products. We earn commissions from purchases you make using the retail links in our product reviews. Learn more about how this works.